Posted on 07. Jun, 2012 by Hichem in Arabic Language, Language, Literature, Vocabulary
He may never have made it to the "Top 10 Most Popular Arab Caliphs of All Time", but when it comes to the literary art of الغـــــــــزل (poetry of love and courtship), 'Yazīd ibn Mu'āwiya ibn Abī Sufyān, the second Caliph of the Umayyad dynasty, is widely hailed as one of the undisputed maestros of this Arabic genre!
"وأمطــــــــــــرتْ لُؤلؤاً" ("And Pearls Rained Down")
 نالــــــــــــت على يدهـــــــــــــــا مالـم تنلـه يـــــــــــدي 
What she boasted on her hand, mine could never reach
نقشاً على معصمٍ أوهت بـه جلـدي
An etching on her wrist rendered me powerless
كأنـهُ طُـرْقُ نمـلٍ فـي أناملهـا
Like the pathways of ants upon her fingertips
أو روضةٌ رصعتها السُحْبُ بالبـردِ 

Or a garden that the clouds embellished with hail
وقوسُ حاجبهـا مِـنْ كُـلِّ ناحيـةٍ
Assailed from everywhere, the bow of her brow
وَنَبْـلُ مُقْلَتِهـا ترمـي بـه كبـدي 
And the arrows of her eye targeted my soul
مدتْ مَوَاشِطها فـي كفهـا شَرَكـاً
She set her combs in her palm as a trap
تَصِيدُ قلبي بها مِـنْ داخـل الجسـد 

To hunt my heart from deep within my body
إنسيةٌ لو رأتها الشمسُ مـا طلعـتْ
A lady, the Sun would never dare to rise
من بعدِ رُؤيَتها يومـاً علـى أحـدِ 

 After eying her once
"سَألْتُها الوصل قالتْ :"لا تَغُـرَّ بِنـا
I courted her, so she said: "Do not be deceived by me
من رام مِنا وِصـالاً مَـاتَ بِالكمـدِ 

Those who court me die of sorrow 
فَكَم قَتِيلٍ لَنا بالحـبِ مـاتَ جَـوَىً
How many of my victims had their last breath
"من الغرامِ، ولم يُبْـدِئ ولـم يعـدِ 
Out of love, without ever consuming it"
فقلتُ : "استغفرُ الرحمنَ مِـنْ زَلَـلٍ
So I said: "O Merciful Lord, prevent me from erring
"إن المحـبَّ قليـل الصبـر والجَلـدِ  

A lover has little patience and power"
: قد خَلفتنـي طرِيحـاً وهـي قائلـةٌ
She left me knocked out as she said:
"!تَأملوا كيف فِعْـلُ الظبـيِ بالأسـدِ" 

"Admire what the antelope has done to the lion!" 
:قالتْ لطيف خيالٍ زارنـي ومضـى
Later, she asked a spirit who had paid me a blitz visit:
"بالله صِفهُ ولا تنقـص ولا تَـزِدِ"
 "By God, describe him to me, without omission nor exaggeration"

"فقال: "خَلَّفتُهُ لـو مـات مِـنْ ظمَـأٍ
So he said: "I left him as if he were dying of thirst"
"وقلتُ: "قف عن ورود الماء لم يرِدِ 

And said: "Do not reach the water, so he didn't"
"…قالتْ: "صَدَقْتَ، الوفا في الحبِّ شِيمتُهُ
She said: "You are right, for fidelity in love is indeed his character…"
!يا بَردَ ذاكَ الذي قالتْ علـى كبـدي 
What a solace her words proved to my soul!
واسترجعت سألتْ عَني ، فقيل لهـا
She then inquired about me again and was told:
ما فيه من رمقٍ"… و دقـتْ يـداً بِيَـدِ" 
"Not even a drop of life is left in him"… So she clapped her hands
وأمطرتْ لُؤلؤاً من نرجسٍ وسقتْ
And pearly tears rained down her narcissus eyes, watering
ورداً ، وعضتْ على العِنابِ بِالبـردِ 

Her rosy cheeks, as she bit with her pristine hailstone teeth her red grape lips
وأنشـدتْ بِلِسـان الحـالِ قائـلـةً
And wailed with pain saying
مِنْ غيرِ كُرْهٍ ولا مَطْـلٍ ولا مـددِ 

Entirely with her own volition:
"واللهِ مـا حزنـتْ أخـتٌ لِفقـدِ أخٍ"
"I swear to God, never has a sister mourned the loss of a brother
"حُزنـي عليـه ولا أمٌ علـى ولـدِ 
"Nor has a mother mourned the loss of a son, as I do now mourn his loss"
إن يحسدوني على موتي ، فَوَا أسفي
If my foes were to envy me for my death, then what a pity for me
حتى على الموتِ لا أخلو مِنَ الحسـدِ
Even in death I shall not be exempt of jealousy!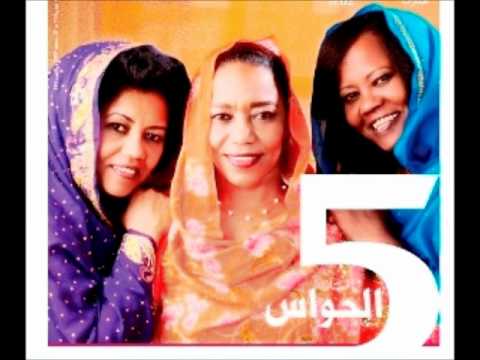 To the unaware ear, this song can sound sub-Saharan African
In fact, this is a Sudanese cover of Yazid's 14 century-old "وأمطــــــــــــرتْ لُؤلؤاً" performed by the renown Sudanese singer  عبد الكريــــــــــم الكابلـــــــــــــــي (AbdelKarim AlKabli) together with the three "بلابــــــــــــل" ("Albalabil", meaning "The Nightinglaes")