You can get from Beijing to Shanghai in just 5 hours now with the high-speed railway. As such, we took a short trip there during the National Holiday (国庆节) in 2011, which is a busy but exciting time to travel. Check out the Yuyuan Gardens, the view of the Bund, and some delicious Shanghai dumplings in this short video.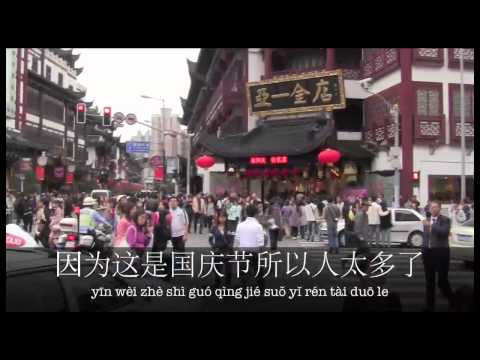 旅行团 – lǚ xíng tuán
tour group
北京南站 – běi jīng nán zhàn
Beijing South Railway Station
上海 – shàng hǎi
Shanghai
这是我们第一次乘坐京沪高速铁路 – zhè shì wǒ men dì yī cì chéng zuò jīng hù gāo sù tiě lù
This is our first time riding the Beijing-Shanghai high-speed railway.
二等座 – Èr děng zuò
second class seat
上海是一个非常大的城市 – shàng hǎi shì yī gè fēi cháng dà de chéng shì
Shanghai is a really big city.
爱上海吗?请举手 – Ài shàng hǎi ma? qǐng jǔ shǒu
Love Shanghai? Please raise your hand.
黄浦江 – huáng pǔ jiāng
Huangpu River
天际线 – tiān jì xiàn
skyline
越南餐厅 – yuè nán cān tīng
Vietnamese restaurant
因为这是国庆节所以人太多了 – yīn wèi zhè shì guó qìng jié suǒ yǐ rén tài duō le
Because this is National Day, so there are too many people.
豫园 – yù yuán
Yuyuan Garden
小吃 – xiǎo chī
snack
小笼包 – xiǎo lóng bāo
steamed soupy dumplings
东方明珠塔 – dōng fāng míng zhū tǎ
Oriental Pearl TV Tower
环球金融中心 – huán qiú jīn róng zhōng xīn
World Financial Center
外滩 – wài tān
The Bund
激光搏击 – jī guāng bó jí
laser tag