We've already been up North and out West in this series covering Chinese cuisine, so now it's time to head South and explore the delicious options available in Southern China. When you think of the eats in this part of the country, the first thing that comes to mind is Cantonese cuisine, known in Chinese simply as Guangdong cuisine (广东菜 – guǎng dōng cài). In terms of the Eight Great Culinary Traditions of China, it's known simply as Yue Cuisine (粤菜 – yuè cài). The food in Southern China is known to be especially fresh, which helps to maintain the natural flavors. Unlike in Western Chinese cuisine, the dishes here contain only modest amounts of spices so as not to overwhelm the taste buds. Many cooking methods are utilized in Southern China, most commonly steaming and stir-frying.
There is a saying about Chinese people (mainly Southerners) that "they will eat everything with four legs except for the table", and nowhere does that ring as true as in the Southern part of the country. Whether it be chicken feet, duck's tongue, or snakes, there isn't much that people won't eat down there (cats and dogs can still be found on some menus, although not as much as in the past). It's believed that eating the internal organs of an animal will help your own internal organs – eating a liver will help your liver, eating lungs will help your lungs, and so on. And before you ask, guys, the answer is yes – eating an animal's penis is believed to help with virility. On a less weird note, there's an abundance of fresh seafood as well, along with yummy soups and sweets.
When people in the US and other Western countries eat Chinese food, there's a good chance that it's Cantonese food. This is because a majority of Chinese immigrants who moved to the US in the 1800′s were from this part of the country, so they were the first to introduce Americans to Chinese food.
A brief introduction to Cantonese food.
Of course, the Chinese food that you'll find in any given American-Chinese restaurant is a far cry from what you'll find in Guangdong province, so let's examine some of the more well-known dishes from this region of China:
Dim Sum (点心 – diǎn xīn)
The name of this dish can be translated as "touch the heart," and a good meal of dim sum does just that. Eating dim sum in a restaurant is known in Cantonese as "yum cha" (饮茶 – yǐn chá), which means "to drink tea." These days, eating a hearty dim sum breakfast with tea is very popular in Hong Kong and other areas of Southern China. This tradition goes way back, when travelers along the Silk Road would stop to rest their weary feet and have a cup of tea. Eventually, tea houses started serving various snacks to go along with the drinks, and thus the tradition of dim sum was born. Dim sum is basically a variety of different dumplings and steamed buns stuffed full of just about anything, including: beef, chicken, pork, shrimp, and vegetables. One serving usually has about 3 or 4 pieces, so it's best to go family style and just order up a bunch and pass them around. When out for dim sum, remember that it's custom to fill your companion's tea cups before your own. Also, when someone has poured your cup, it's best to tap your fingers on the table; as this is a sign of respect.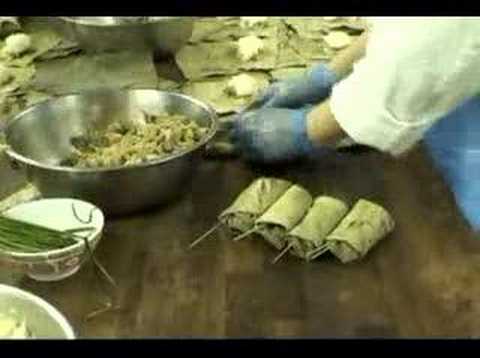 Learn how to make dim sum with this video.
Sweet and Sour Pork (咕噜肉 – gū lū ròu)
This classic Cantonese dish is famous round the world, and for good reason. Slices of deep fried pork are stir-fried in a sauce made from a mixture of sugar, vinegar, ketchup, and soy sauce, along with pineapple, green peppers, and onions. The Cantonese original is made with preserved plums and hawthorn candy.
Drunken Prawns (醉虾 – zuì xiā)
These shrimps are nice and liquored up before they are cooked, as they are soaked in rice wine for a while prior to being steamed. More adventurous eaters can try this one the way a lot of people like to – alive. I'm not sure about you, but I'll stick to the cooked version.
Zha Liang (炸两 – zhà liǎng)
A common Cantonese breakfast snack, this is made by wrapping rice paper around a stick of fried dough, known in Chinese as youtiao (油条 – yóu tiáo). It's usually eaten alongside some soy milk or congee.
Slow Cooked Soup (老火湯 -  lǎo huǒ tāng – lit. old fire soup)
This style of soup is made by simmering meat and other ingredients over low heat for many hours. Since Chinese herbs and/or medicine are often used, this popular dish has plenty of medicinal value, and it's thought to heal or improve your health. Unlike in other parts of China, people in the South will usually eat their soup first, whereas people on the mainland tend to serve soup last.
Whatever you decide to order, chances are you'll leave a Cantonese style restaurant feeling full and satisfied. In the next and final installment of our delicious series on China's Great Culinary Traditions, we'll head East.