A UNESCO World Heritage site since 2000, the Longmen Grottoes outside of Luoyang, Henan province, are one of the best examples of Chinese Buddhist art. Here, over 100,000 statues of Buddha and his disciples are carved into the limestone caves of the Xiangshan and Longmen mountains. It's an amazing sight, and certainly worth a visit if you are traveling in China.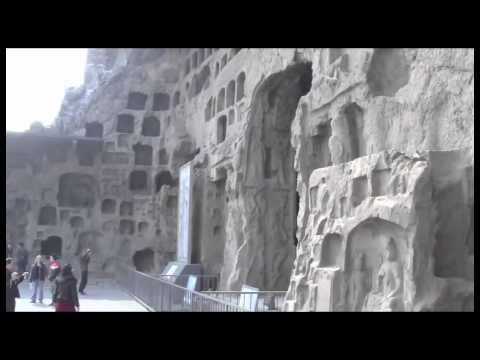 火车站很拥挤,也很脏 – huǒ chē zhàn hěn yǒng jǐ, yě hěn zàng
The train station is very crowded, and also very dirty.
*Note: I made a mistake on this one with the tone – 脏 in the 4th tone (zàng) means "inner organ"… it should have been the1 1st tone (zāng)
洛阳 – luò yáng
Luoyang
我们买了硬卧票 – wǒ men mǎi le yìng wò piào
We bought hard sleeper tickets.
带了葡萄酒和奶酪 – dài le pú táo jiǔ hé nǎi lào
…and brought wine and cheese.
河南省 – hé nán shěng
Henan province
龙门石窟 – lóng mén shí kū
Longmen Grottoes
中国佛教艺术 – zhōng guó fó jiào yì shù
Chinese buddhist art
北魏 – běi wèi
Northern Wei Dynasty
唐代 – táng dài
Tang Dynasty
香山 – xiāng shān
Mt. Xiang (lit. fragrant mountain)
龙门山 – lóng mén shān
Mt. Longmen (lit. dragon gat mountain)
伊河 – yī hé
Yi River
孝文帝 – xiào wén dì
Emperor Xiaowen
北宋 – běi sòng
Northern Song Dynasty
晋 – jìn
Jin Dynasty
元代 – yuán dài
Yuan Dynasty
步步生莲 – bù bù shēng lián
Seven Steps at Birth/Step by Step Lotus
万佛洞 – wàn fú dòng
10,000 Buddha Cave
奉先寺 – fèng xiān sì
Ancestor Worshipping Temple
大日如來 – dà rì rú lái
Vairocana Buddha
武则天 – wǔ zé tiān
Wu Zetian
钟楼 – zhōng lóu
bell tower
鼓楼 – gǔ lóu
drum tower
蒋宋别墅 – jiǎng sòng bié shù
Jiang Song Villa
蒋介石 – jiǎng jiè shí
Chiang Kai-shek
国民党 – guó mín dǎng
Kuomintang (KMT)