Posted on 30. Apr, 2010 by Hichem in Culture, Film
Here we go again, "Dieu Merci, C'est Vendredi!" That is now officially becoming our own French motto for "TGI's Friday"!
Let's give another break to les animaux of le zoo des locutions, and let's take a pause from our B.A.-BA of l'Argot (French Slang Glossary.)
Jennie has introduced you last time to Serge Gainsbourg, who is considered to be un très grand monsieur of la chanson française (French songs, and French Music in general.) Another sommité, of the French cinéma this time, is called Louis de Funès. 
He may not possess the charm of the most famous French actors of his time, say, Alain Delon, or the looks of a Jean-Paul Belmondo. Not that at all. What he does have, however, is un don unique (a unique gift) for la comédie !   
His beginnings, as a young man in his 20′s, living in that turbulent decade of the 1940′s, were by no means easy or painless. After having tried his hand at several jobs and careers, he almost always ended up getting… fired.
Fire, and "jouer avec le feu" ("playing with fire") seemed to be one his constant fixations, you might be tempted to say, almost to a "pyromaniacal" degree. As un gag or une farce (a practical joke), he once almost burned to the ground one of the most distinguished movie and photography schools of Paris! Of course, that was an offense which caused him to be once and for all kicked out from that prestigious establishment.
His percée (breakthrough) ultimately came with the WWII Franco-Italian comedy-hit, inspired from a novel of the famous French writer Marcel Aymé, titled "La Traversée de Paris" ("Crossing Paris"), where he played next to another monument of le cinéma français, a certain Jean Gabin.
His major success, and what posterity mostly remembers him for, came with the role of "Le Gendarme de Saint-Tropez" ("The Gendarme of Saint-Tropez"), which has surprisingly known such a succès fou (a huge hit)  that it had not less than five sequels (The first video is from one of those sequels, titled "Le Gendarme en Balade" (The Gendarme to Stroll.")
Other amazing and must-see movies of his include "La Grande Vadrouille" ("The Great Stroll"), which is widely seen as his best achievement ever, thanks especially to his complice (or "partner in crime", you may say), another comedy genius named Bourvil!
He also managed to resurrect from nearly complete oblivion a French fictional character, created in 1911, called "Fantômas", where he co-starred with the hilariously funny Fernandel.
It's safe to say that the trio Funès-Bourvil-Fernandel are, hands down, the maîtres indisputables (indisputable masters) of French Comedy of the 20th century.
Finally, you should also check out his "La Soupe aux Choux" ("The Cabbage Soup"), which came out a year before the "UFO/E.T."-mania, in 1981, and also, malheureusement (unfortunately) for le monde du cinéma (the movies world), two years before his death, in 1983.
I let you enjoy this "classic" scene of his (He has, among many other places in the world, quite an insane "cult" in Germany.)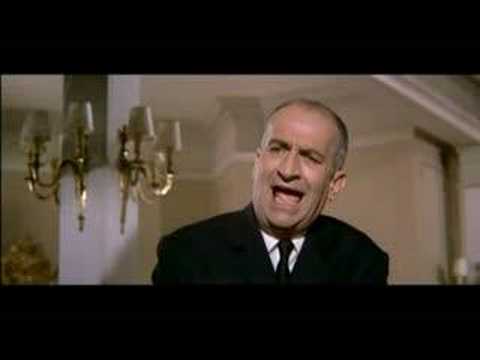 Bon weekend !