Au contraire of what the title may suggest to some people's minds, today's post is not about the movie "V for Vendetta"… It's actually about another Sci-Fi movie—a *French* Sci-Fi movie, which is nowadays considered by all standards of measure to be un film culte (or a "classic")!
Of course, who can't remember the epic trilogy of "Retour vers le Futur" ("Back to the Future"), starring Michael J. Fox and Christopher Lloyd, who played the roles, respectively, of the adventurous teenager "Marty McFly", and the savant fou (mad scientist) "Dr. Emmett Brown"?
The main plot of that movie was to have people from notre ère (our era) embark in fantastic adventures that take place in several voyages dans le temps (time travels.)
Now, picture for a second la situation inverse, and wonder what would happen if, instead, people *from the past* would time-travel into our current times!
That in fact is exactly what Jean-Marie Poiré's 1993 comédie portrays. A movie which has now achieved the lofty status of un film culte (a cult or classic movie.)
Before 1993, however, the French title "Les Visiteurs" would, if anything at all, remind French people of another work of science fiction, namely the 80's American "hit" Sci-Fi series simply known as "V", which featured reptilian humanoid aliens who, among a plethora of peculiar eccentricities, enjoyed eating birds, mice, and any other arboreal rodents—vivants de préférence (alive, preferably.)
The ultimate goal of these "visiting" aliens? Nothing short of a complete and unchallenged control over our planet's population and its natural resources!
How did they expect to do just that? Simply by resorting to the (specious) pretext of offering technological and scientific development to us, humans—a pretext which, of course, as some of you may quickly notice, sounds all too… "familiar." A lot like a "déja vu" of what has been dubbed over the past few centuries as "la mission civilisatrice":  That good old rengaine (catchphrase), in many ways comparable to Rudyard Kipling's "White Man's Burden", so dear to the heart of many colonisateurs, who were -no doubt!- animated by the "noblest" and most "selfless" motives to help modernize les pauvres "indigènes"…
Only this time, of course, according to the plot of this sci-fi series, it's all humans who turn into a herd of helplessly oppressed "indigènes", in exchange of the many "benefits" graciously bestowed upon them by the "mission civilisatrice" of the "visiting" aliens!!

http://www.dailymotion.com/video/x9c3pi

The above video shows le générique (the intro) of the original series "V", as aired on French TV channel M6.
This series made a comeback to the American channel ABC in 2009, with Scott Wolf who, you be the judge, looks just like the aforementioned Michael J. Fox…
Coming back to Jean-Marie Poiré's "Visiteurs": It is now ranked quatrième (fourth) in the entire history of the French box-office, only behind the hugely successful "Bienvenu chez les Ch'tis" (2008), "La grande vadrouille" (1966) with Bourvil and comedy genius Louis de Funès, and "Astérix et Obélix : Mission Cléopâtre" (2002.)
Without divulging to you any dévoilements majeurs, or "des gâcheurs", as our Québécois friends would refer to "spoilers", let us say to those of you who haven't enjoyed yet watching this classic, that the movie essentially follows the adventures of the medieval duo Godefroy De Montmirail, played by Jean Reno, together with his fidel serviteur (faithful servant) and sometime acolyte (sidekick), Jacouille 'la Fripouille' (the term "Fripouille" in colloquial French means a "crook", or a "scoundrel"), played by Christian Clavier, who both live in 1123 AD, before finding themselves télétransportés towards the end of the XXe siècle, after having been tricked to kill the duc Fulbert de Pouille, thanks to une potion magique concocted by une méchante sorcière… (You know, the sort of witch that one would run into in, say, Capucine's fairytale!)
 
Here's a memorable scene from the beginning of the movie:

And then this one too, boasting a great performance by Valérie Lemercier, which was to earn her, in 1994, a César award, the French equivalent of the American Oscars.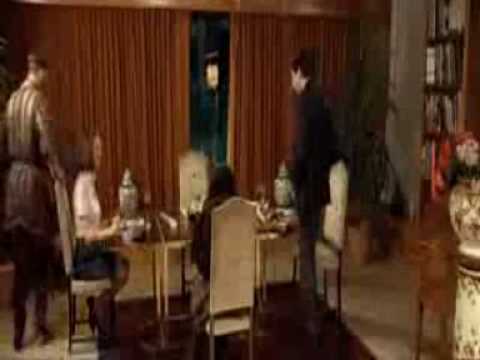 Sadly enough, the sequel (1998), as well as the American version (2001), were not as great as the first "Visiteurs." The onus, as it seemed, shifted to a sort of "humour tarte à la crème" ("slapstick humor"), rather than the clever subtilités (subtleties) humouristiques that characterized the original … Vraiment dommage !