It's now official, French people finally got to know the names of the new "A-Team" which will surround Monsieur François Hollande.
Until the official announcement, nobody knew anything about the group of les ministres who were to be picked by the newly-elected French President, except for the fact that it was promised to be "gender-balanced" entre les hommes et les femmes (between men and women.)
Indeed, the promise seems to have been kept: Among the 18 French ministers, there are 9 men and 9 women.
Until he was tapped as French PM, or Premier ministre, Jean-Marc Ayrault was mayor of Nantes, the sixth largest city in France after Paris, Marseille, Lyon, Toulouse and Nice.
One of his first actions as PM was to lower the salary of ministers by 30%, from 14,000 Euros to less than 10,000 Euros.
He's very fluent en allemand (in German), and will therefore be the best link to act between the new French President and Angela Merkel, the German Chancellor.
However, his meetings won't be as smooth with Arab politicians and journalists as with the Germans, since his last name sounds just like an Arabic slang word (mostly Lebanese) for "phallus"—some French "humour noir" enthousiasts have already dubbed his appointment "une dyfonction électile" ("electile dysfunction.")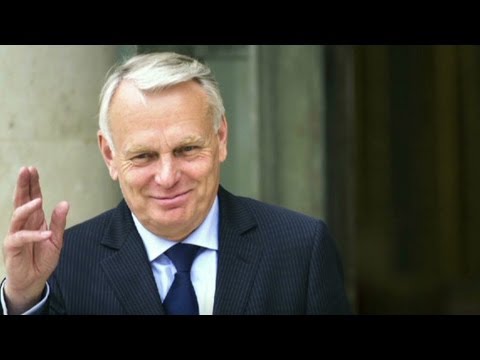 The man who will be the face of France abroad is actually a familiar one—to the French people, at least!
Laurent Fabius, "un vieux routier" ("an old vet") of French politics is now France's Minister of Foreign Affairs.
He was already Prime Minister under "Tonton" (or "Uncle", a nickname of ex-French President François Mitterrand, who was also sometimes called "Dieu", meaning "God"), and was in fact the youngest French politician to have held this position in the history of la cinquième république (the Fifth Republic.)
Le Bébête Show: A French pardoy of "The Muppet Show" featuring "Tonton" François Mitterrand as "Kermitterrand the Frog." It ran non-stop during the Mitterrand presidency, spanning the years 1982 to 1995
It has then been replaced by a similar French show: "Les Guignols de l'Info"
A son of well-known Parisian antique dealer, Laurent Fabius joined the famous French politician-making machine, l'ÉNA (Read more about it in the French Blogs's post "What is an Énarque?")
He voted non in the 2005 French referendum on the Treaty establishing a Constitution for Europe.
Although his name is a French anagram of "naturel abusif", and despite his now famous "responsable mais non coupable" ("responsible but not guilty") uttered during l'affaire du sang contaminé (contaminated blood affaire) which broke open in the early 1990s, he usually maintains a reputation of a clean politician.
Sadly, "not so much" can be said of his businessman son, Thomas Fabius, who was recently condamned by a French court for abus de confiance (breach of trust.) Some even see a highly unusual traitement de faveur (special treatment) awarded to le fils à Papa by the French justice, since he only had to pay back 5,000 Euros out of the 90,000 Euros he was convicted of pocketing for no good reason.
Liberté, Égalité,…?
À Suivre (To Be Continued)
Coming up soon:"Les Femmes who 'Make Up' the New Face of French Politics"  (no big pun inteded.)