Today's article is about une énigme (an engima) of l'histoire de France. But don't get too excited while reading the title above: It's got nothing to do with any comics fictional character—Fans of "Iron Man", really désolé, but stick around nevertheless!
Usually, les secrets d'états (state secrets) take a few decades before they are divulgués (divulged) to le public, but it seems that some secrets are never truly meant to be unveiled—or at least, not quite easily so.
The secret at hand goes back to le XVIIe siècle, the century of Louis XIV, known to the world as "Le Roi Soleil" ("the Sun King.") Ever since, it has elicited a considerable amount of speculation, inflamed the passion and imagination of so many écrivains (writers) and historiens, but none could determine avec certitude (with certainty) who was "l'Homme au masque de fer", or the "Man in the Iron Mask."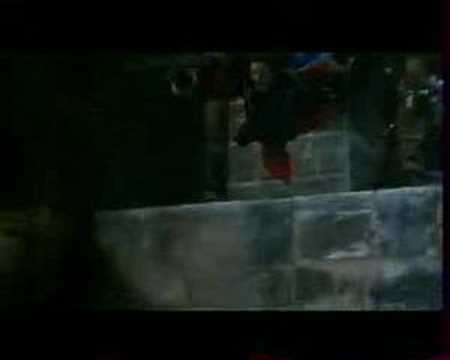 Qui est donc l'Homme au masque de fer ?
Today's post only pretends to present the historical enigma to you in very broad terms. As for the task of "unmasking" the mysterious character, as well as forming votre propre opinion sur le sujet (your own opinion on the subject), that would, bien entendu (of course), remain entirely your responsibility.
Having clarified that, one then is allowed to ask: What are les faits connus (the known facts), and from what point does la spéculation begin?
C'est un fait (it is a fact) that by the winter of 1703, the mysterious prisoner who was to be later known to posterity as the Man in the Iron Mask had passed away, after spending 34 years of his life locked up in prison cells. His geôlier (jailer), a man by the name of Bénigne D. de Saint-Mars (quite a "benign" name for such a profession!), kept him in complete seclusion, in three different prisons, the last of which being the famous -or rather infamous- Bastille prison. He was to wear at all times a mask, which was first thought to be made out of iron, but according to most historians today, it was most likely black velvet.
34 years earlier, in a letter exchange between le Secrétaire d'État de la Guerre (the Secretary of State for War), the shadowy Louvois (who was to be closely involved in another sinistrous affaire known as "l'affaire des poisons", which is yet another "dossier" in its own right) and the jailer Saint-Mars, there was a mention of a new "low profile" prisoner, by the name of "Eustache Dauger."
Was that only a pseudonym, or the real name of l'Homme au masque de fer ? And why was it so important for the King to conceal his real identity from the public?
It is at this point that the speculation begins per se.
The most privileged, if not most publicized, hypothesis presents him as being rien d'autre que le frère (none other than the brother) of the "Sun King" himself!
The first to champion this hypothèse was the famous philosopher Voltaire, though he never offered any piece of serious evidence to support it.
Then came Alexandre Dumas, père, the celebrated author of  "The Three Musketeers" and "The Count of Monte Cristo", who this time portrayed the mysterious prisoner, in his novel "Vicomte de Bragelonne", as the frère jumeau du Roi (the twin brother of the King.)
The Dumas novel has subsequently inspired several other works and movie adaptations, one of which is Randall Wallace's (1998), the director of "Braveheart", "Pearl Harbor", "We Were Soldiers", and featuring Leonardo Di Caprio as Louis XIV (as well as his alleged "twin" brother.)
One piste intéressante (interesting track), and a likely candidate for the mysterious Homme au masque de fer, (though officially declared dead earlier than 1703) is Nicolas Fouquet: A close friend of La Fontaine and Molière (to name but a few of his "BFFs" at the time), who was charged by the King of massive embazzlement, in a long-running financial scandal that has little to envy our latter-day affaires de corruption, ranging from ENRON in the US, to l'affair ELF in France, or the many mafia oligarchs-related scandals in Mother Russia.
If you wish to better explore this énigme of l'histoire de France (and exercise your French listening skills by the same token), then here is a documentaire you definitely ought to check (in four parts.)
http://www.dailymotion.com/video/x8l5t1