Although it is un nouveau venu (a newcomer) to the crowded Hall of Fame of les fromages français (French cheeses), Camembert quickly rose to the lofty prominence of most popular cheese in France, and by far the most famous throughout the entire world: Now, wouldn't you say that deserves some r-e-s-p-e-c-t for Monsieur Camembert?
According to his autobiographical "Secret Life", the now iconic "Persistence of Memory" painting was suggested to early surrealism enthusiast Salvador Dalí by observing a Camembert cheese slowly melting under la chaleur (the heat) of a Summer day
One tenuous story claims that its ascension fulgurante (meteoric rise) traces its roots back to the shaky times of la Révolution française (French revolution), at the eponymous village of Camembert in Lower Normandie, dubbed "the largest small village in France."
In fact, the name Camembert can be broken into to parts: "Camp-Membert", or "Membert field" ("camp" meaning "field" in Norman, which sounds close enough to the same French word, "champs", as in "Champs-Élysées.")
To this day, the village of Camembert proudly boasts a statue of the one woman officially credited as the mother of the soft creamy milk-based product: Madame Marie Harel.
Contrary to widespread belief, the authentic
 Camembert 
is made of 
le lait cru
 (unpasteurized cow milk), and contains a minimum of 
45% fat

—
In other words, if you're planning to start a "real" Camembert
 régime 
(diet), then just forget it
!
However, other versions based on treated milk exist as well, as the current law requires a minimum affinage period of trois semaines (three weeks.)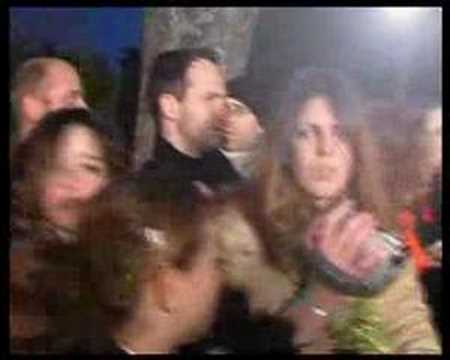 "Dites fromage" ("say cheese")! Commercial for the French Cheese "PRÉSIDENT"—A feature that applies to all kinds of "Presidents" as well (Keep scrolling down, you'll get it)
Camembert is famously tasty with a baguette de pain (bread.) It can be enjoyed with nuts or even fruits. Culinary connaisseurs advise that it is best savored at température de chambre (room temperature.)
"Ze Small Urge to Merge":
 Notwithstanding la crise financière (the financial crisis) plaguing the whole Euro zone, French President Nicolas Sarkozy remains a "big" fan of les fusions et acquisitions (the corporate finance term in French for "mergers and acquisitions"), hence the widely spread rumor of him urging the two famous Camembert brands "Le Petit" and "Président" to merge their operations at once (With Nicolas, of course, making a perfect fit for the mascot of the thus newly-created milk-based food delicacy: "Le Petit Président")