Posted on 26. Sep, 2011 by sandra in Uncategorized
Der Gartenzwerg – The garden gnome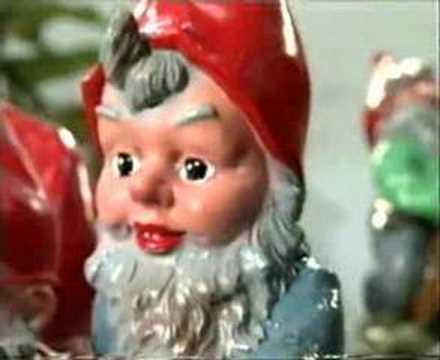 They are small and round, usually wear (tragen) a red hat spiked up with a blue suit and a golden belt. The nose (Nase) is big and round (rund) and some of them even wear funny costumes. In Germany alone there are around 25 Million of them and are made of varies material, such as wood (Holz) or Clay (Ton).
Gnomes and trolls have always been present in the land of Fairy tales and German mythology, bringing knowledge and cheerful happiness but also prosperity of Nature in a modest way.
Ones considered beings or characters of the earth element, as guards of the earth and the mineral kingdom. A mythical being of a legendary race endowed with exceptional vision and heightened superhuman power as their task was to provide assistance to all living things and protect the deepest treasures in the earth, in part helpers or keepers, a reason why you see them in Gardens.
Gnomes are considered to be a part of the collective memory of Eastern and Western European folk tale. The Brothers Grimm for instance featured gnomes in 'The Gnome', a series of short stories detailing the lives of gnomes. These stories depict gnomes in benevolent and malevolent lights, but the first one is perhaps the most important: in it clothing is given to two helpful gnomes and they decide to serve a cobbler and his wife for the rest of their days.
No one knows for sure where they first derived from or when, but the very first German Garden gnome (Gartenzwerg) was made of clay and was produced by potter Philipp Griebel in Graeferoda, Thuringia, in either the early 1800's, but history records that the British first garden gnome appeared on an estate in 1840. Over time now, they have become so popular in modern age from princess gnome, to Ipads and even in advertisement on Television, its rather interesting that we forget where and why they were first produced.
Lawn gnomes were once produced all over Europe, but after the fall of the Iron Curtain most production moved to Poland and the Czech Republic. Phillip Griebel's descendents continue to create garden gnomes in Germany and are the last producers of German garden gnomes.
So do you have a Garden Gnome? Or Gartenzwerg?
Wear- tragen
Nose- Nase
Round- rund
Wood- Holz
Clay- Ton
Garden Gnome- Gartenzwerg