Posted on 25. Jul, 2012 by Sandra Rösner in Culture, History, Language, Music, People
Last week I asked on Facebook for which German song you would like to have the lyrics and English translation. One wish was "Das alles ist Deutschland" (All this is Germany) by Die Prinzen (The Princes).
Die Prinzen are a German band from Leipzig, which is in the federal state of Saxony. Die Prinzen were very popular and successful in the 1990s. Nowadays, you hardly hear anything of them, but that still isn't any sort of reason not to write about them.
Well, their song Das alles ist Deutschland is very sarcastic, so please don't take it too literally. In order to understand the sarcastic tone of voice of the song I will give you some explanations below each line or verse.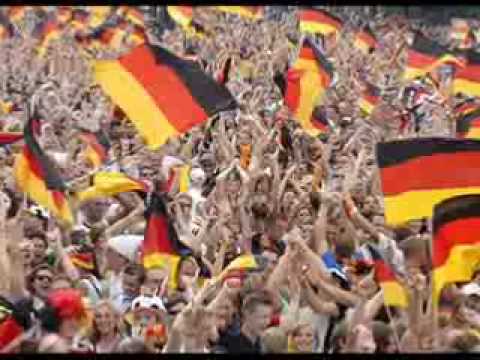 Das alles ist Deutschland
All this is Germany
Deutsch, deutsch, deutsch …Natürlichhat ein Deutscher "Wetten, dass" erfunden

Vielen Dank

für die schönen Stunden

German, German, German …Of course,a German came up with "Wetten, dass…"

Thank you very much for

the beautiful hours

("Wetten, dass … " is a kind of game show on German television and it is supposed to be the most successful Saturday night TV show in Germany ever. Indeed, many Germans loved to watch it but I think meanwhile it is simply outdated and quite boring., because the concept of the show has not progressed much.)
Wir sind die freundlichsten Kundenauf dieser Welt
We are the friendliest customersin this world
(Germans are supposed to be bad and unfriendly customers. This may have several reasons. Germans are not used to wait in line and always expect a fast service, and you usually get a fast service in Germany. This again can sometimes be very problematic for costumers who wish for a consulting service because shop assistants are rather drilled to settle a transaction quickly than spending time on giving advices. This behavior by shop assistants annoys many Germans. Thus, Germans often denote Germany as "Servicewüste" (service desert), which means that there is nothing or no one who can ever assist you.)
Wir sind bescheidenWir haben Geld
We are modestWe have money
(Germans are indeed quite modest when it comes to money. It is considered to be pretentious to show and say that you have money. But these lines are also sarcastic because there are also many Germans who live on social welfare and/or below the poverty line.)
Die Allerbesten in jedem SportDie Steuern hier sind WeltrekordBereisen Sie Deutschlandund bleiben Sie hier

Auf diese Art von Besuchern warten wir

Es kann jeder hier wohnen, dem es gefällt

Wir sind das freundlichste Volk

auf dieser Welt

We are the very best at every sportThe taxes here are world recordTravel to Germanyand stay here

We are waiting for this kind of visitors

Everyone can live here, who wants to

We are the friendliest people

in this world

(Some lines level criticism against politics. It is quite easy for refugees from war zone to find shelter in Germany but mostly it is rather difficult for them to get citizen rights. They are often not allowed to work and earn money. This again annoys refugees and taxpayers alike.)
Deutsch, deutsch…Nur eine Kleinigkeit ist hier verkehrtUnd zwar, dass Schumacher

keinen Mercedes fährt

German, German …Just one trifle is wrongnamely that Schuhmacher

doesn't drive a Mercedes

(Mercedes is THE make of car that simply symbolizes Germany, but the German racing-car driver Michael Schuhmacher does not drive for Mercedes but for the Itlaian make of car Ferrari.)
Refrain:Das alles ist Deutschlanddas alles sind wirDas gibt es nirgendwo anders

nur hier, nur hier

Das alles ist Deutschland

das sind alles wir

Wir leben und wir sterben hier

Deutsch, deutsch…

Es bilden sich viele

was auf Deutschland ein

Und mancher findet es geil

ein Arschloch zu sein

Es gibt manchen,

der sich gern über Kanaken beschwert

Und zum Ficken jedes Jahr nach Thailand

fährt

Chorus:All this is Germanythis all is usYou can't find that anywhere else

Only here, only here

All this is German

All this is us

We live and we die here

German, German …

Many people

are smug about Germany

And quite a few people like it to

be an a**hole

There are a few

who like to complain about wogs

but travel to Thailand every year to f*ck

(The German word "Kanacke" is a disparaging term for people with a different ethnic background.)
Wir lieben unsere Autos mehrals unsere Frau'nDenn deutschen Autoskönnen wir vertrau'n

Gott hat die Erde nur einmal geküsst

Genau an dieser Stelle,

wo jetzt Deutschland ist

Wir sind überall die besten

natürlich auch im Bett

Und zu Hunden und Katzen

besonders nett

Das alles ist Deutschland…

Wir sind besonders gut im Auf-die-Fresse-

hau'n

auch im Feuerlegen kann man uns

vertrau'n

Wir steh'n auf Ordnung und Sauberkeit

Wir sind jederzeit für 'nen Krieg bereit

Schönen Gruß an die Welt,

seht es endlich ein

Wir können stolz auf Deutschland… SCHWEIN!

Schwein, Schwein…

Das alles ist Deutschland…

We love our cars morethan our womenBecause we can confidein German cars

God had kissed the world just once

Right at the spot

where Germany now is

We are the very best in everything

Of course, also in bed

And we are very nice

to dogs and cats

All this is Germany …

We are especially good at to-smash-somebody-face-in

You also can confide us in setting on fire

We are into tidiness and cleanliness

At any time we are prepared for the war

Regards to the world

Finally, buy it

We can be proud of Germany

PIG!

Pig, pig …

All this is Germany