Posted on 11. Jun, 2012 by hulda in Icelandic culture, Icelandic customs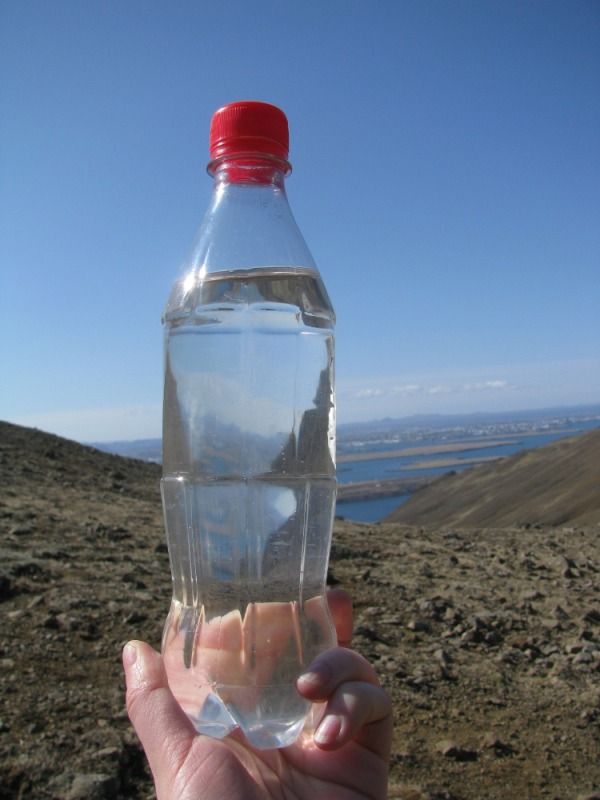 When I mentioned in the first part of this post that the water in the little streams that run down the mountain is very clean I was not kidding. I filled my drinking bottle at the fourth stage where the path goes over a river (careful you don't slip in while crossing it, the water's also freezing cold).
The fourth stage was quite a popular stopping place for many who, like us, dug out their packed lunches and sat there enjoying the magnificent view. No one seemed to be in any kind of a hurry. The sun was shining on our heads and while it was not yet too hot to be uncomfortable, I's still suggest that sunglasses and a hat/scarf for your head will be very useful if the climbing day is going to be sunny.
After the fourth stage the climb turns steeper, rockier and harder, and people who turn back midway usually only climb onto stage four because it's such a good mark between the easy and the more demanding route. However, you have not successfully climbed the mountain until you reach at least Steininn, a large rock at stage five. There's still roughly 300m climb to the top from there as Steininn is located 600m above the sea.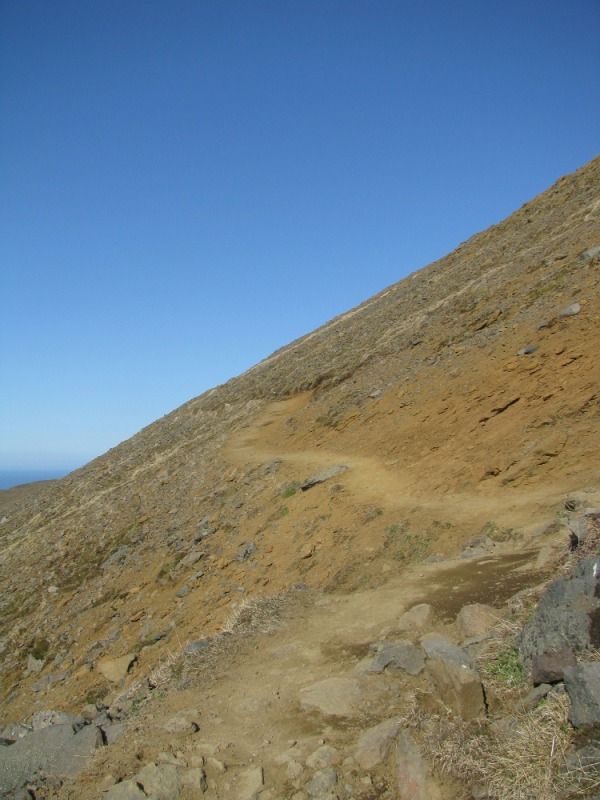 After the climb the path circles around the mountain's side and it's here where you need to be extra careful if the day turns cloudy. Esjan often gets a cloud covering in which case you'd literally be walking in one, and it'll be like the thickest fog you've ever been in. You won't be able to see much ahead and with the horizon missing from the view your brain will quickly try to substitute the slope of the mountain for it. Clouds also block the view so it's better to avoid climbing on cloudy days. You can, and always should, check the weather forecast at Veðurstofa Íslands before heading out in the wild anywhere in Iceland; the most likely trouble you'll end up in often has something to do with bad weather and a poor choice of timing.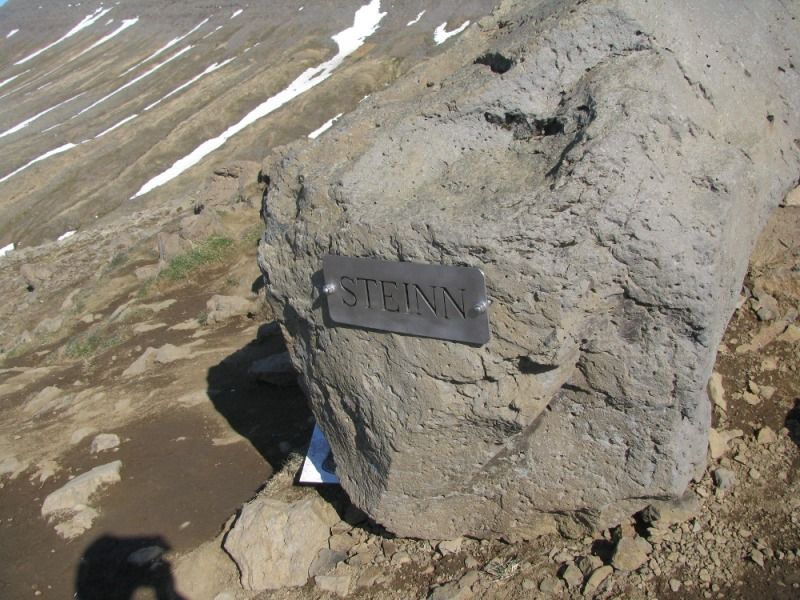 Tvisvar verður sá feginn sem á steininn sest (he who sits on a rock becomes happy twice). This old Icelandic proverb was difficult to understand at first but once reaching the Steininn I found out in a very practical way what it means.
After a long climb and especially because part of it had involved climbing up that steep, rocky part, my legs were making small suggestions of giving up already. Indeed, I became quite happy to find a suitable rock to sit upon! The view was even better from here and more food was clearly in order to fully enjoy it. More people were arriving, some with small children or even dogs with them, some as out of breath as I was and some jogging up and then down like it was nothing amazing. Small birds were flitting around us, keeping an eye out for possible bread crumbs.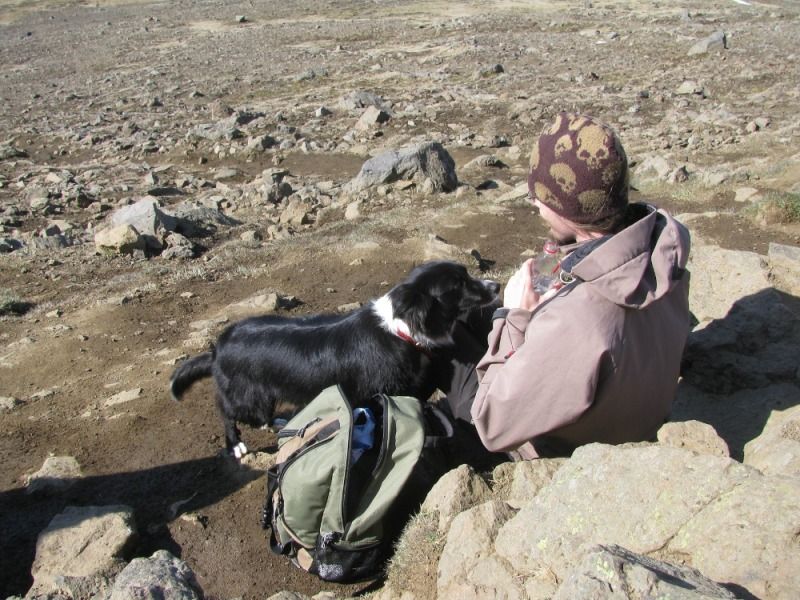 We found that a sandwich in hand means instant friends on the mountain.
After a while my legs started to feel better and it was then that the rest of my body began to make complaints. The air was chilly up here and I was a bit sweaty so I quickly became cold. What's more, rocks aren't such comfortable seats after all and – let's just say my butt was the part of me that became the source of that second happiness that the proverb mentions when I stood up again. The first happiness comes from getting to rest your feet, the second from getting to continue on your way and massage some feeling into your backside.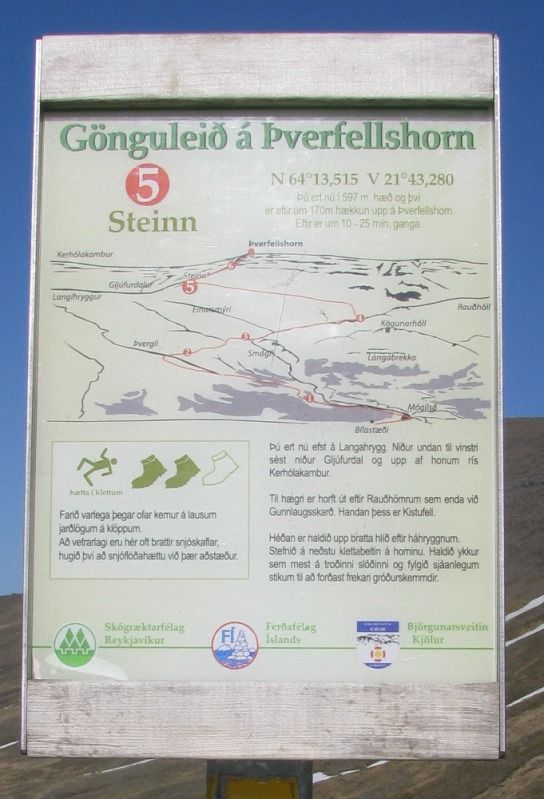 Here's the signboard at stage five. Warnings include avalanches since there's often snow on top of the mountain. The path up from Steininn was a little bit icy too. It's also not a very clear one, something that the sign also mentions by asking people to stay on the path that seems the most walked, but we witnessed at least two different options for the last part of the climb. There's an "easy" one with chains you can grab to aid your climb, and then there's a daredevil route without them some way to the right of that. I would suggest the so-called easy one, especially if it's your first time climbing Esja.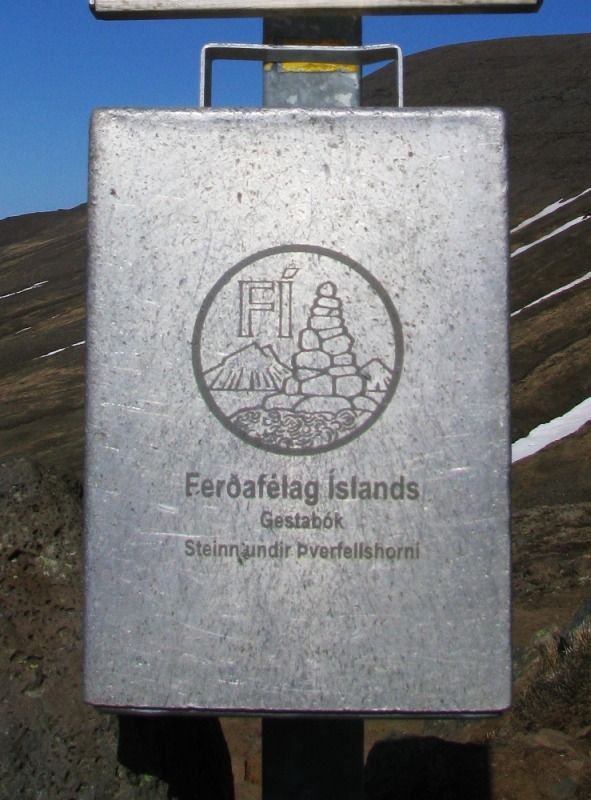 Don't forget to sign the guestbook before you leave!