The raucous annual revelry of Carnival in Brazil and Mardi Gras in New Orleans are legendary and widely imitated. However, lesser-known celebrations have taken place for generations in other parts of the world, particularly in those countries where Christian traditions have made the 40 days before Easter a time of extreme sacrifice and solemnity.
The last days of Carnival are called "Ostatki" in Poland. This is a time of celebration, the last chance to dance, eat meat, pastries and other rich foods and alcohol before the beginning of Lent.
Here is Polish poem about ostatki:
Ostatki
Moje drogie dziatki,
dzisiaj są Ostatki.
Więc suknię wyciągamy
i na bal się wybieramy..
Wie to Dama, wie i dziedzic,
dziś na stoły wjeżdża ŚLEDZIK
Śledzik w occie i w śmietanie,
śledzik jako główne danie!
Śledź w oleju i w przyprawach
bo dziś kończy się karnawał!
Trzeba śledzia skonsumować,
aby potem nie żałować,
że przespało się ostatki,
jedzmy śledzie więc bez gadki!
A że rybka pływać lubi
i bez płynów drogę gubi,
powiem teraz bardzo krótko -
trzeba śledzika popić wódką!
A na balu dużo jemy
i tańczymy i pijemy,
chociaż będzie boleć głowa.
Jutro Środa Popielcowa.
A od Środy Popielcowej,
aż do Niedzieli Palmowej
czterdzieści dni będziemy pościć,
więc się warto dziś ugościć.
My dear children,
Today is Shrove Tuesday.
So I'm taking the dress out
and we are getting ready for the ball
lady and heir know about it,
today Herring is served
Herring in vinegar and sour cream,
herring as the main dish!
Herring in oil and spices
because today carnival ends!
You need to consume herring,
so you do not regret
that slept through the shrove,
So let's eat herring without saying!
And because fish likes to swim
and without fluid path is lost,
Now I say very briefly -
you need to wash down herring with vodka!
And at the dance we eat much
and dance and drink,
although there will be a headache .
Tomorrow, Ash Wednesday.
And since Ash Wednesday,
until Palm Sunday
forty days we fast,
So it's worth to have fun today.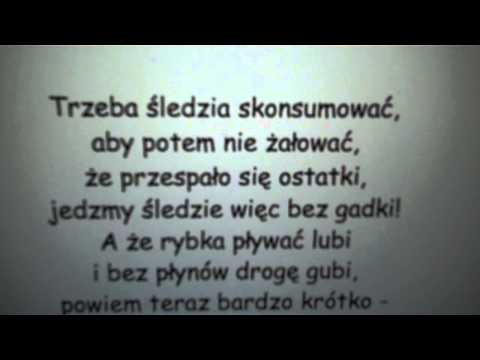 Do następnego razu… (Till next time…)