Posted on 31. May, 2012 by Kasia in cooking, Grammar, Languages, Nature, Polish Language, Safety, travel, Vacation
Not every one wants to go on an organised tour for their holiday. Here is a basic checklist (lista) of the things you will want to take to enjoy your own camping holiday (wakacje kempigowe). This camping checklist is by no means complete and you will want to add some extra things to suit yourselves.
One of the most important things to do on any holiday is to be comfortable and to enjoy it. If you are comfortable sleeping on the ground that is fine, however if you prefer to sleep on a nice mattress, that is what you should take.
Camping Checklist
Tent – namiot
Mattress – karimata, mata, materac
Sleeping bag - śpiwór
Pillow – poduszka 
Repair kit - zestaw naprawczy
First aid kit – apteczka
Insect repellent - środek odstraszający owady
Toilet paper – papier toaletowy
Stove - kuchenka turystyczna
Picnic set: plates (talerze), bowl (miska), mug (kubek), knife (nóż), fork (widelec), spoon (łyżka)
Pots and pans – garnki i patelnie
Dishwashing liquid - płyn do mycia naczyń
Plastic garbage bags – plastikowe worki na śmieci
Sunscreen – krem przeciwsłoneczny
Pocket knife – scyzoryk
Table and chairs - stół i krzesła
Sunglasses – okulary przeciwsłoneczne
Extra clothing – dodatkowe ubrania
Flashlight - latarka
Rain gear - ubrania przeciwdeszczowe
Water – woda
Map and compass – mapa i kompas
Matches - zapałki
Trail food – jedzenie na szlak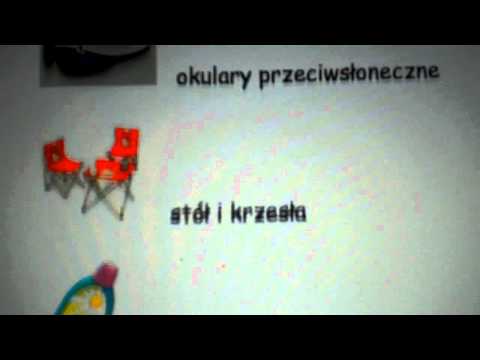 Do następnego razu… (Till next time…)