As in other Catholic countries that celebrate the last day before the fasting season of Lent begins, Poland has its own version of the French Mardis Gras (Fat Tuesday), known locally as Tłusty Czwartek, or Fat Thursday. With Lent forbidding sweets and treats, Fat Thursday is a similar celebration of gluttonous indulgence as in other countries, but with the date bungled, and instead of parading and partying the Poles queue up in lines that sometimes stretch around the corner in order to purchase pastries from the local cukiernia, or bakery.
Poland's favourite pastries, particularly on Fat Thursday, are pączki – large deep-fried doughnuts typically filled with rose jam (or other marmalades), glazed with sugar, and sometimes topped with a piece of candied orange peel. Another Fat Thursday favourite are faworki – thin dough ribbons, fried until crispy and sprinkled with powdered sugar. The number of these baked goods consumed annually on Fat Thursday is truly astronomical, but you can buy them any day of the year in most bakeries. This year Fat Thursday falls on February 27th.
Here are couple of short poems about this holiday:
✺✺✺
Był sobie pączek, co nie miał rączek
i okrąglutki był jak miesiączek.
Miał lukrowaną złocistą skórkę,
a w środku dziurkę na konfiturkę.
Wszyscy go lubią – starsi i dzieci.
Na jego widok, aż ślinka leci.
Lecz co naprawdę pączki są warte,
to przede wszystkim wie tłusty czwartek.
There was a donut, which did not have hands
and he was round like full moon.
He had golden crust,
and in the middle of the hole for jam.
Everyone likes him – the elderly and children.
In his view, the mouth is watering.
But what really donuts are worth,
first of all know Fat Thursday.
✺✺✺
Jak tradycja stara każe
w domu, sklepie, biurze, barze.
Wszędzie pączek dziś króluje,
każdy chętnie go smakuje.
Z dżemem, z cukrem, z wisienkami
wszędzie pączek dzisiaj z nami.
Dziś kalorii nikt nie liczy,
wszędzie moc pysznych słodyczy.
W tłusty czwartek przez dzień cały
słodkim królem – pączek mały!

Just like old tradition tells
home, shop, office, bar.
Everywhere donut reigns today,
everyone is happy to taste it.
With jam, with sugar, with cherries
donut everywhere with us today.
Today, no one counts the calories,
everywhere the power of delicious sweets.
In Fat Thursday all day long
sweet king – little donut!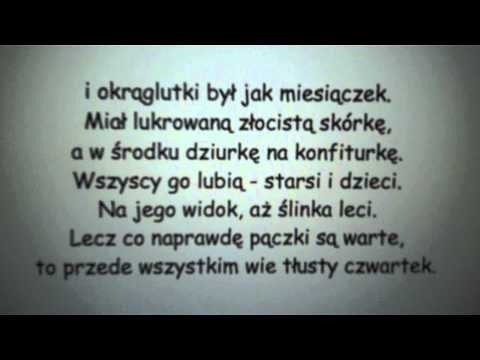 Do następnego razu… (Till next time…)