Spring has finally come to New Hampshire…and it almost fells like summer now. With beautiful weather come fresh fruit and vegetables, so accordingly today's post has something to do with that!
Here is one of my favorite poems written by Jan Brzechwa:
Na straganie
Na straganie w dzień targowy

Takie słyszy się rozmowy:
"Może pan się o mnie oprze,

Pan tak więdnie, panie koprze."
"Cóż się dziwić, mój szczypiorku,

Leżę tutaj już od wtorku!"
Rzecze na to kalarepka:

"Spójrz na rzepę – ta jest krzepka!"
Groch po brzuszku rzepę klepie:

"Jak tam, rzepo? Coraz lepiej?"
"Dzięki, dzięki, panie grochu,

Jakoś żyje się po trochu.
Lecz pietruszka – z tą jest gorzej:

Blada, chuda, spać nie może."
"A to feler" -
Westchnął seler.
Burak stroni od cebuli,

A cebula doń się czuli:
"Mój Buraku, mój czerwony,

Czybyś nie chciał takiej żony?"
Burak tylko nos zatyka:

"Niech no pani prędzej zmyka,
Ja chcę żonę mieć buraczą,

Bo przy pani wszyscy płaczą."
"A to feler" -
Westchnął seler.
Naraz słychać głos fasoli:

"Gdzie się pani tu gramoli?!"
"Nie bądź dla mnie taka wielka"
Odpowiada jej brukselka.
"Widzieliście, jaka krewka!"

Zaperzyła się marchewka.
"Niech rozsądzi nas kapusta!"

"Co, kapusta?! Głowa pusta?!"
 A kapusta rzecze smutnie:

"Moi drodzy, po co kłótnie,
Po co wasze swary głupie,

Wnet i tak zginiemy w zupie!"
"A to feler" -
Westchnął seler.
At the stall on market day
You can hear these conversation:
"Perhaps you will like to lean on me,
You are fading, Mr. Dill. "
"Not a surprise, my chives,
I'm lying here since Tuesday! "
Kohlrabi heard and said:
"Look at turnip – she is hearty!"
Peas pat turnips tummy:
"How are you turnip? Getting better?"
"Thanks, thanks, Mr. peas,
Somehow, I live slowly.
But it is worse with parsley:
pale, thin, can not sleep. "
"What a flaw" – 
 sighed celery.
Beet avoids onion,
And onion wants to get close:
"My beet, my red,
Wouldn't you like wife like me? "
Beet only plugs his nose:
"Please get going,
I want my wife to be beet like
Because everyone cries around you. "
"What a flaw" – 
 sighed celery.
Suddenly, you hear the voice of beans:
"Where have you scrambling here!"
"Do not be so great for me"
Corresponds to the Brussels sprouts.
"Did you see what a brave one!"
 Carrot got upset.
"Let the cabbage judge us!"
"What, cabbage? Empty head?"
And cabbage will say sadly:
"My dear, what arguments,
Why your silly quarrels,
Soon all of us will die in the soup! "
"What a flaw" – 
 sighed celery.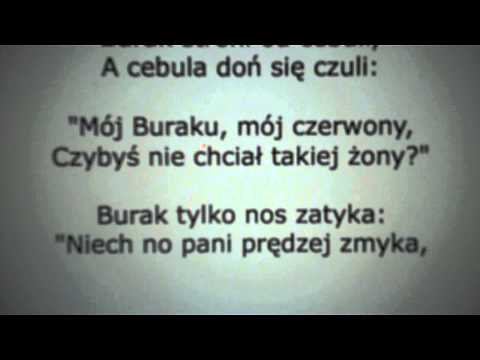 Do następnego razu… (Till next time…)