Posted on 29. Oct, 2012 by Kasia in Calendar, Countries, Culture, Holidays
Celebrating Halloween is a very popular tradition around the world. It has been a vital part of Irish tradition since as early as the 10th century and from that time it has been spreading around and gaining fame in a multitude of different countries. Yet, in Poland still hardly anyone dresses up and goes trick-or-treating. Moreover, many people, mainly the elderly, find kids going door-to-door asking for sweets quite annoying and disturbing.
The reason for this aversion towards Halloween probably derives from the traditional christian character of our country – in the past dressing up as ghosts and monsters was considered a dangerous pagan ritual. That belief has been passed on though the ages and has stuck deeply in the conscience of the Poles. Another factor is that we were always more focused on celebrating All Saints Day, which in our culture is a very melancholic and pensive holiday, so it doesn't correspond well with the festive and joyful character of Halloween.
Fortunately, as the world becomes more and more of a "global village", we start to notice that celebrating Halloween couldn't be further from being a mockery of the dead. In fact, it constitutes mainly of great fun for both children and adults. Each year on October 31st all sorts of parties and events spring up like mushrooms around the country. Even some schools organize dances for their students. Although trick-or-treating still isn't very common, we can see occasional groups of kids in costumes going around the houses in their neighborhoods.
Hopefully, Halloween will finally manage to get rid of its bad reputation in Poland. It is undoubtedly an event which is able to bond the society together. And it also has one extremely important advantage: it helps us get through the gloomy days of autumn with smiles on our faces.
Here is a video I took while at a Halloween party at the New Hampshire farm. This party was during the day –   kid's friendly. I had a great time with my little girls and I wish parties like that would be more popular in Poland!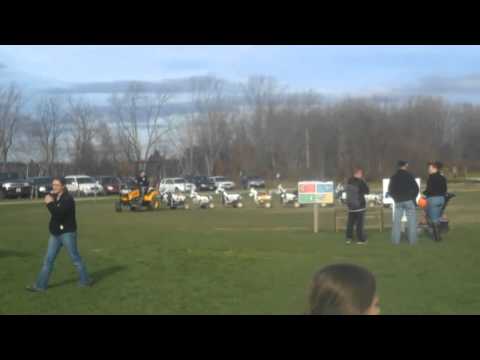 Do następnego razu… (Till next time…)