Posted on 30. Oct, 2012 by Kasia in Countries, Culture, Current News, Holidays, Kids, Rhymes
Here are some Polish rhymes for halloween! Just in case you will be trick or treating in Poland!
✾
My jesteśmy straszne zmory,

Bardzo groźne z nas upiory,

Jeśli nie chcesz się nas bać,

musisz nam cukierka dać.
We are terrible nightmares,
Very dangerous ghosts,

 If you do not want to be afraid of us,

 give us some candy.
✾
Przed upiorami

Możemy Was bronić,

Jeśli tylko zechcecie

Dać nam słodyczy słoik!
Before ghosts
We can defend you,

 If you just want to
give us a jar of sweets!
✾
 Znamy moc tajemną Duchów i upiorów
Mamy wielką władzę
Nie lubimy sporów
Więc nie wzbraniaj się głośno
Nie zamykaj drzwi
Jeśli dasz cukierka
Nie będziemy się mścić
We know the power of the mysterious spirits and ghosts
We have great power
We do not like disputes
So do not refrain too loud
Do not close the door
If you give candy
We will not retaliate
✾
 Duchy, zjawy i upiory,
Diabły, strzygi, inne zmory,
Dzisiaj ze swych grobów wstają
I do Twoich drzwi pukają,
Jeśli nie chcesz ich się bać,
Musisz im słodycze dać.
Spirits, ghosts and ghouls,
Devils, Strigoi, other nightmares,
Today rise from their graves
And knock on your door,
If you do not want to be afraid,
You have to give them sweets.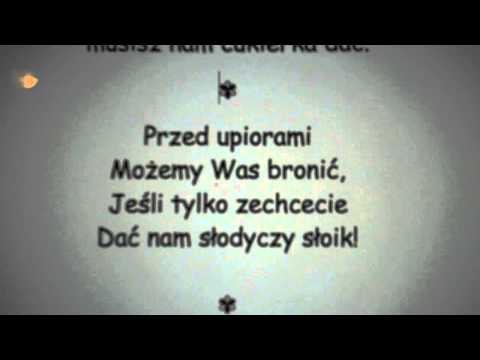 Do następnego razu… (Till next time…)