Posted on 17. Jul, 2012 by Rachel in Sports
The Olympics start in less than two weeks, and Brazil is preparing to send its athletes to London! In preparation for the games, we're going to look at some of Brazil's top contenders. Today, we'll start with swimmer César Cielo Filho.
Watch this interview as César talks about the upcoming competition.
César arrived in London today. Read about his arrival from MSN:
Dono de duas medalhas na Olimpíada de Pequim-2008, Cesar Cielo desembarcou em Londres, nesta segunda-feira à tarde, em busca de mais conquistas nos Jogos de Londres. O nadador brasileiro foi bastante assediado pela imprensa e causou um pequeno tumulto no aeroporto de Heathrow, o que deu um certo trabalho para policiais e funcionários do local.

 Cielo chegou à capital britânica citando uma frase do cineasta norte-americano Walt Disney, que poderá servir de inspiração para o atleta na competição. "Pensei em várias frases, mas até postei uma no Facebook essa semana, que é do Walt Disney. Ele fala que gosta do impossível porque a concorrência é menor. Vamos para o impossível, a hora do impossível chegou", afirmou o nadador. Read more
And in case you missed it, here's César winning the gold at the 2008 Olympics: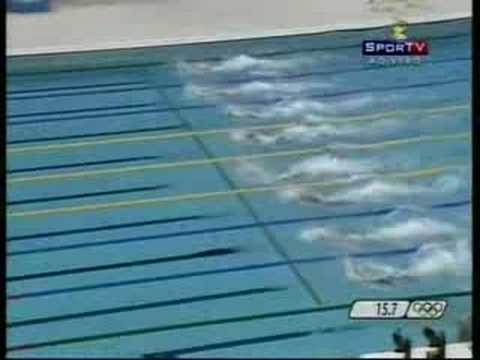 César will be a major contender for swimming in London. Você irá torcer para ele?