Hoy practicaremos el vocabulario de la ciudad. Today we will practice the vocabulary on the city.
Mi ciudad e Ir al trabajo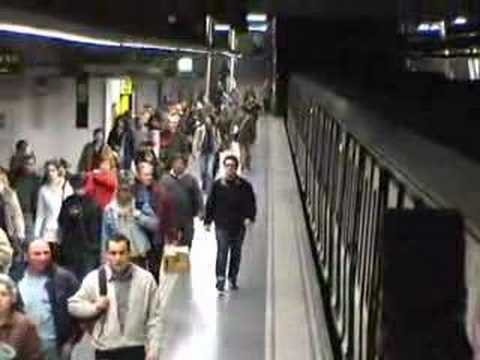 Vídeo y actividad pensada por Agustín Iruela
Primera parte

Barcelona es una ciudad que está en el mar Mediterráneo. Tiene más de un millón y medio de habitantes, pero alrededor de Barcelona hay otras ciudades y pueblos. En total, hay 4 millones de habitantes.

Es la segunda ciudad más grande de España. ¡Qué grande es!

En Barcelona hay monumentos famosos como la Sagrada Familia; lugares bonitos para pasear; museos importantes; puerto y mucha gente, sobre todo en Las Ramblas, su calle más famosa.

Aquí puedes encontrar paseando gente de muchos países y también estatuas humanas: son personas que se disfrazan de algo, están quietas y solo se mueven si les das unas monedas.

¡Cuánta gente!

En Barcelona hay edificios altos y bajos, modernos y antiguos.

Este es el parque de la Ciutadella. ¡Qué bonito es! Si quieres, puedes dar un paseo en barca por el lago.

En el centro de la ciudad hay muchos edificios bonitos. Casi todas las casas tienen un balcón.

Segunda parte

Los días laborables, la gente va al trabajo a pie; en coche; autobús; taxi; metro o bicicleta.

Los que viven fuera de la ciudad vienen en tren. Las personas que trabajan en oficinas llegan entre las 8:00 y las 9:00 de la mañana. Los colegios y la universidad empiezan a las 9:00.

A esa hora, dan periódicos gratuitos en la calle.

¡Cuidado! ¡Estáis cruzando con el semáforo en rojo! Para cruzar la calle, el semáforo tiene que estar en verde. Si está en rojo, tienes que esperar. Ahora estas mujeres están esperando. Y ahora, cruzan.

El metro acaba de llegar a la estación y abre las puertas. Primero pasa la gente que quiere salir y después pasa la gente que quiere entrar. ¡Daos prisa, que os van a cerrar las puertas!

El metro cierra las puertas y va a la próxima estación. En los pasillos del metro hay músicos. Si te gusta su música puedes darles unas monedas.

Yo todos los días voy al trabajo en metro. Primero entro en la estación del Clot y voy en la línea morada.

Viajo unos minutos hasta la estación de Sagrada Familia. Después bajo y hago transbordo. Utilizo las escaleras mecánicas para subir. Luego camino por un largo pasillo y voy a la estación de la línea azul.

Me gusta leer mientras espero. Monto otra vez en el metro y por último bajo en la estación Diagonal.

Por la tarde la gente vuelve a casa. Los colegios y los institutos acaban a las 5:00. La gente que trabaja en oficinas normalmente termina de trabajar a las 6:00.