Posted on 17. Sep, 2012 by Nauman in Uncategorized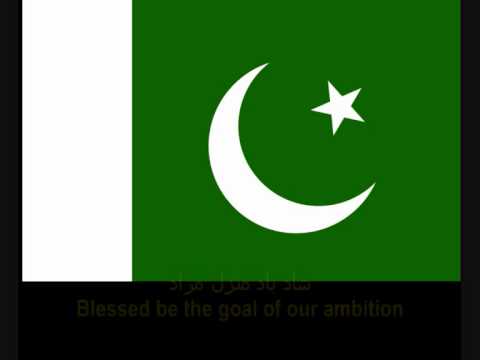 The Qaumī Tarāna (Urdu: قومى ترانہ), also known as Pāk Sarzamīn ("The Pure Land"), is the national anthem of Pakistan. The words "Qaumi Tarana" in Urdu literally translate to "National Anthem". Its music, composed by Ahmad G. Chagla in 1950, preceded its lyrics, which were written by Hafeez Jullundhri in 1952.
Timeline of important events:
1947 – The new state of Pakistan comes into being on 14 August.
1950 – Musical composition for the Qaumi Tarana is composed by the Pakistani musical composer, Ahmad G. Chagla (running time: 80 seconds).
1952 – Verses written by the Pakistani poet, Hafeez Jullundhri, are selected from amongst 723 entries
1954 – Broadcast for the first time on Radio Pakistan on 13 August.
 

 

National Anthem (قومى ترانہ)

Transliteration

Translation

:پاک سرزمین شاد باد

pāk sarzamīn shād bād

Blessed be the sacred land

كشور حسين شاد باد

kishwar-e-hasīn shād bād

Happy be the bounteous realm

تو نشان عزم علیشان

tū nishān-e`azm-e-`alīshān

Thou symbol of high resolve

! ارض پاکستان

arz-e-pākistān!

O Land of Pakistan!

مرکز یقین شاد باد

markaz-e-yaqīn shād bād

Blessed be the fortress of faith

:پاک سرزمین کا نظام

pāk sarzamīn kā nizām

The order of this sacred land

قوت اخوت عوام

qūwat-e-ukhūwat-e`awām

Is the might of the brotherhood of the people

قوم ، ملک ، سلطنت

qaum, mulk, sultanat

May the nation, the country, and the state

! پائندہ تابندہ باد

pā'inda tābinda bād!

Shine in glory everlasting!

شاد باد منزل مراد

shād bād manzil-e-murād

Blessed be the goal of our ambition

:پرچم ستارہ و هلال

parcham-e-sitāra-o hilāl

The flag of the crescent and star

رہبر ترقی و کمال

rahbar-e-taraqqī-o kamāl

Leads the way to progress and perfection

ترجمان ماضی شان حال

tarjumān-e-māzī, shān-e-hāl

Interpreter of our past, glory of our present

! جان استقبال

jān-e-istiqbāl!

Inspiration for our future!

سایۂ خدائے ذوالجلال

sāyah-e-khudā-e-zu-l-jalāl

Shadow of God, the Glorious and Mighty