Have you ever noticed that when you launch a conversation about les films célèbres (famous movies) with people from different countries than yours, most of the time you start getting the strange feeling that you've never watched the same ones they talk about?

To make sure that Bill Murray's movie "Lost in Translation"
doesn't itself get lost in (French) translation, it was called
-rather subtly- "Traduction Infidèle" ("Unfaithful Translation")

C'est un peu curieux, non (It's a bit odd, no?)
Well, pas vraiment (not really), because more often than not, le titre d'un film (the title of a movie) in one language is translated differently than le titre original (the original title.)
This is very true for most of the movies which are given French titles.
Imagine, as a typical example, a French person asks people who know movies only by their original English titles if they've watched "The Teeth of the Sea", they would probably say that they've never heard of that movie—Even though the movie in question is originally titled "Jaws"!
Similarly, the same thing can be said if that French person who is unaware of the original titles would confusingly refer to movie names such as "Crystal Trap" for "Die Hard", "The Day After The Eve" for "The Hangover", "The Claws of The Night" for "A Nightmare on Elm Street", or "My Father-In-Law And Me" for "Meet the Parents"!

The French version of the famous intro to "La Guerre des Étoiles" ("Star Wars")
Notice that there's une faute (a mistake) at the end: "pourrant" should be spelled "pourront"!
* * *
To give you an overall idea about the subject of movies and their translation in French, here is for you a liste non-exhaustive of some famous movies, together with their titres français (French titles)!
Lumière… Moteur… Action ! (Lights… Camera… Action!)

* Quelques films d'action (some action movies) et de science fiction (and Sci-Fi):

– "La Guerre des Étoiles" ("Star Wars")

-"Retour Vers le Futur" ("Back to the Future")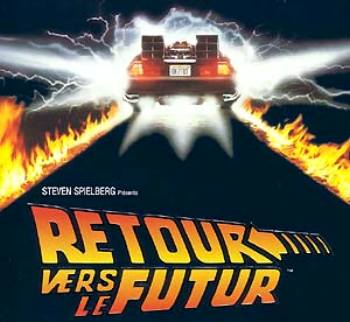 – "Piège de cristal" ("Die Hard.") Lit. "Crystal Trap"

– "Les Aventuriers de l'arche perdue" ("Raiders of the Lost Arch")
– "Demain ne meurt jamais" ("Tomorrow Never Dies")


* * *

* Quelquesfilms de comédie (Some comedy movies):

– "Lendemain de veille" ("The Hangover")



– "La Légende de Ron Burgundy" ("Anchorman")

– "Serial Noceurs" ("Wedding Crashers")

– "Mon beau-père et moi" ("Meet the Parents") Lit. "My Father-In-Law And Me"

– And of course, the hilariously titled "Eh mec, elle est où ma caisse ?" ("Dude, Where's My Car?") 

* * *
* Enfin, quelques films d'horreur et de suspense (Finally, some scary or thriller movies):
– "Les Dents de la Mer" ("Jaws") Lit. "The Teeth of The Sea"
– "Psychose" ("Psycho")

– "Massacre à la tronçonneuse" ("Texas Chainsaw Massacre")


– "Les Griffes de la Nuit" ("A Nightmare on Elm Street") Lit. "The Claws of The Night"