While I'm sure you all enjoyed reading about the capital city of the USA last week, you'd probably like to see a bit more of Washington, D.C. See what you can do on a half-day walking tour of the National Mall in this short video. Featuring the US Capitol, Washington Monument, Vietnam Veterans Memorial, Lincoln Memorial, White House, and so much more. A great video for ESL students interested in America and/or American ESL teachers looking to show their home country to students.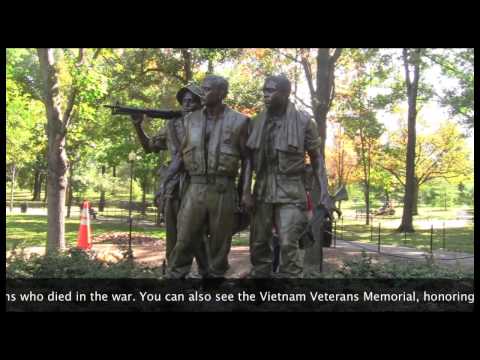 "Washington, D.C. is the capital of the United States. Let's enjoy a day of sightseeing in this famous city. Most places of interest are located in the National Mall. Our trip begins at the US Capitol. This is the seat of the United States Congress, the legislative branch of the government. Stop to enjoy the views in the reflecting pool.
There are many government buildings here, such as the Department of Education and the National Archives. The Smithsonian Institution is the largest group of museums and research centers in the world, including the Museum of the American Indian, Air and Space Museum, Museum of Natural History, and Museum of American History. The National Gallery of Art is located in two large buildings. If you don't have time to go inside, you can enjoy a walk in the Sculpture Garden. Opened to the public in 1999, this is the most recent addition to the gallery. There are many interesting things to see here.
Continuing on your walk, you'll see the Washington Monument, built to honor the country's first president. There are many war memorials in DC, including the World War II Memorial. Opened in 2004, this is dedicated to the many Americans who served during the war. There are 56 pillars, representing the 48 states of 1945 plus other American territories. The Freedom Wall has 4,048 gold stars – each one representing 100 Americans who died in the war. You can also see the Vietnam Veterans Memorial, honoring the men and women who served in this controversial war.
Walk along the 2,000 foot Reflecting Pool and take in one of the most famous scenes in American history. At the end, you'll find the Lincoln Memorial. Inside is an impressive statue of the 16th president. You can also read the text of his most famous speech – the Gettysburg Address.
There are some nice gardens you can walk through in DC. Don't be surprised to see protestors out and about, as they are everywhere in the capital. There's plenty of interesting architecture, such as the Eishenhower office and the Renwick Gallery. Your walking tour of DC ends at 1600 Pennsylvania Avenue, site of the White House and home to the President of the United States."