Join us on a video tour of the City of Brotherly Love – Philly. Get a history lesson at Independence National Park, try the city's famed cheesesteak, peruse art, funky shops, and enjoy Happy Hour on South Street, and get rowdy with some awesome live music at City Bisco.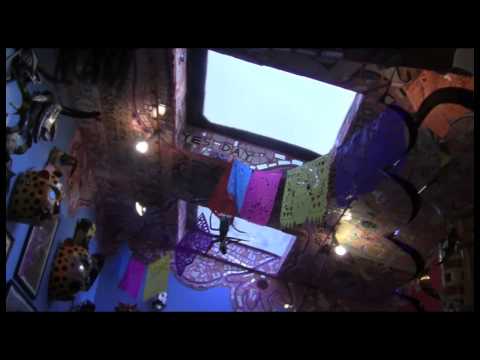 "Welcome to Philadelphia – also known as the City of Brotherly Love and the Birthplace of America. Our trip begins with a little history lesson at the Independence National Park. Here, you can see the Liberty Bell, an iconic symbol of American independence. As you can see, it's a popular place for a photo. A few famous people have posed with the iconic bell – Martin Luther King, Thomas Edison, and even the Dalai Lama. Here, you can also visit Independence Hall, where you're greeted by a statue of George Washington. Join the tour to see where the Founding Fathers drafted and signed the Declaration of Independence and the US Constitution. After all that history, it's time for some local food.
Geno's has been cooking up Philly's signature sandwich since 1966. Order one up and watch the masters at work. It's pretty huge, so you might want to share. Across the street you'll find Pat's, who claim to have invented the cheesesteak. Their sign teaches you how to order one in case you're confused. To be honest, they're both pretty awesome.
Follow the lead of these giant statues and go for a walk on this famous street. There's a lot to see and do here, but perhaps nothing is more interesting than the Magic Gardens. Created by local artist Isaiah Zagar, this incredible mosaic was made with cement, bicycle spokes, bottles, ceramic shards and other random knick-knacks. The artist and his wife moved into the area in the 60s, when it was slated for demolition to build a highway. That would never happen, as Isaiah and other entrepreneurs helped fuel a renaissance for South Street. It is now a thriving neighborhood and a popular place for both locals and tourists to visit. After you've explored the outdoor space, head inside to see some more of his work, including a bunch of interesting self portraits.
Before there were the Magic Gardens, there was the Eyes Gallery. The artist couple bought this store in 1968, and it was the first building in Philly that he would mosaic. This is one of the most colorful and interesting shops you'll find, with three levels of Indian and Latin American folk art on display. After working with the Peace Corps for three years in Peru, they opened this place with nothing but leftover crafts. It's a great story, and an excellent place to pick up some unique souvenirs.
Continue your stroll along South Street, and you're sure to see lots of other interesting shops. This once desolate and dangerous neighborhood is now a great place to hang out and do some window shopping. Philly has more public art than any other American city, and you'll see it everywhere you go. There are plenty of options for food as well here, such as European Republic, where you can fill up your belly without emptying your wallet with a tasty gyro.
With dinner in the books, it's time for Happy Hour. Head to Redwood and grab a spot at the bar or a table outside. You can try a sampling of different craft beers, or one of their fancy cocktails.
If you visit in the fall, you just may catch a mini music festival thrown by Philly's own the Disco Biscuits. The event, called City Bisco, takes place throughout the weekend. Inside the show, you can hit up a food truck and warm up with a laid back DJ set in the tent. Head into the main venue, where there is music going on all day. Put on your best sparkly dress and get ready to rage with the Biscuits.
When the band takes a set break, the party moves over to the tent, which is now packed. Outside, you'll find plenty of hula hoopers and people playing with glow toys. Get back in there for the second set."