Join us for a short video tour of the Freedom Trail in Boston – home to 16 historic sites and one of the most popular tourist attractions in the city.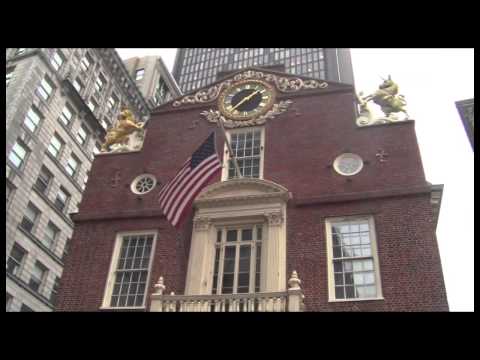 "In Boston, you can walk the 2.5 mile-long Freedom Trail across downtown and visit 16 historic sites. Start in Boston Common, the oldest city park in the United States. Here, you can see the Frog Pond, Brewer Fountain, and the Soldiers and Sailors Monument.
Across the street is the Massachusetts State House. You can also see the Shaw Memorial dedicated to the 54th Massachusetts Colored Regiment in the Civil War. Nearby is another icon – the Park Street Church.
Keep walking to the Granary Burying Ground, the final resting place for many American patriots such as: Sam Adams, Paul Revere, John Hancock, and Ben Franklin's parents. You can walk the trail yourself or join a tour.
The next stop is the King's Chapel, an 18th-century National Historic Landmark. This was the first Anglican church built in colonial New England during the reign of King James II. It was designed by America's first architect, Peter Harrison.
Nearby is the Old City Hall, which was also home to the Boston Latin School. Outside is a statue of Ben Franklin, as well as one of a donkey – symbol of the Democratic Party. The Old South Meeting House was the largest building in colonial Boston and stage for some of the most important events leading up to the American Revolution.
The Old State House was the center of political life in colonial Boston. It was here that the first public reading of the Declaration of Independence was given. Just outside, the Boston Massacre occurred on March 5 1770.Nowadays, the Bostonian Society runs the Boston history museum here. Head inside to browse the many informative exhibits.
Historic Faneuil Hall has been a marketplace and meeting hall since 1742, and it's often referred to as the "Cradle of Liberty." Head in Quincy Market, where you can choose from a variety of vendors to sample some of Boston's fresh seafood, including the famed clam chowdah. Our final stop is the Paul Revere House, once home to the legendary patriot. There are no photos allowed inside, so you'll just have to go see for yourself!"