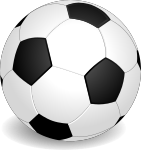 "Og det var Danmark, og det var Danmark, olé, olé, olé!"
And it was Denmark, and it was Denmark, olé, olé olé!
The usual war cry of the Danish football fans didn't cause the stadion (stadium) in Kharkiv to soar yesterday. According to the media, very few Danes had taken the trip to Ukraine to watch Denmark's first match in the EM (Europamesterskabet – the European Championship of Football [soccer]). A friend of mine went to town "to see Denmark lose", as he put it. Pitted against the Netherlands, one of the world's top football nations, the Danish landshold (national team) was bound to fail.
Yet drengene (the boys), as the team is sometimes called, had some surprises up their sleeve. After twenty minutes on the bane (field), Simon Busk Poulsen passed the bold (ball) to Michael Krohn-Dehli. The player from Brøndby, a Copenhagen team, then made a nice finte ([football] trick), tricking his way past three Dutch opponents, and surprisingly firing the ball into the måååååål [goal]!
Krohn-Dehli's goal was something of a blow to the Dutch players. They kept having more chances than the Danes, but were unable to retake the lead. In Denmark the tv-seere (tv spectators, literally "tv seers") were cheering with joy and disbelief. Noone had thought that Denmark would actually beat the Netherlands 1-0.
There has been a lot of talk about this year's EM [eh-em], which is taking place in Poland and Ukraine. Some people have called for a boykot of the event. They say that the Ukrainian regering (government) have violated menneskerettighederne (the Human Rights), and that it was wrong for the government to put the politician Yulia Tymoshenko in fængsel (jail). Other people have said that boycotting the EM would be stupid, and that the only way to solve disagreements would be through dialog [diaLAW-W]. The Danish Minister of Culture, Uffe Elbæk, has taken this stance. He is representing Denmark in the EM.
Danish football supporters call themselves roligans – to stress that they are not violent hooligans, but actually very rolig (calm). But this year the discussion at least has been quite vivid: How is Denmark going to gain any medalje, when placed in a group with three of Europe's top hold (teams) – Germany, the Netherlands and Portugal?
The upcoming kamp (match) against Portugal will show if long-time træner (coach) Morten Olsen really knows the answer, or if this unexpected victory against the Dutch was just pure held [hell] (luck).
---
Never miss a post!
Sign up to receive new posts by email.