Posted on 31. Mar, 2012 by Kasia in Education, Games, Grammar, Kids, Languages, Literature, Phrases, Poetry, Polish Language
Here is a great rhyme by Julian Tuwim which most of little kids in Poland know by heart! I really like it:) Try memorizing it!
Abecadło 
Abecadło z pieca spadło,
O ziemię się hukło,
Rozsypało się po kątach,
Strasznie się potłukło:
I  zgubiło kropeczkę,
H  złamało kładeczkę,
B  zbiło sobie brzuszki,
A  zwichnęło nóżki,
O  jak balon pękło,
aż się P przelękło.
T  daszek zgubiło,
L  do U wskoczyło,
S  się wyprostowało,
R  prawą nogę złamało,
W  stanęło do góry dnem
i udaje, że jest M.
The ABCs
The ABCs fell off the mantelpiece,
Slammed against the ground,
They scattered into all four corners,
And shattered all around:
I misplaced its dot,
H is strangely squat,
B bruised its belly,
A's legs turned to jelly,
O popped like a balloon,
causing P to swoon,
T lost its hat,
L jumped into U, just like that,
S straightened out,
R broken right leg no doubt,
W is head-over-heels,
discovering exactly how M feels.
See below video with pronunciation: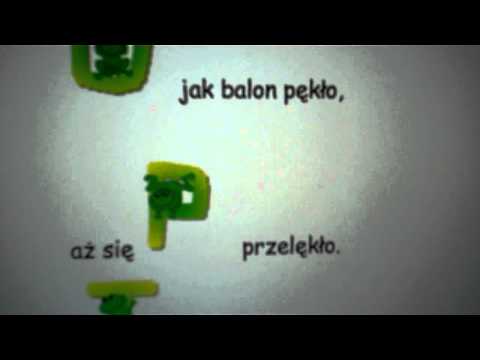 Do następnego razu… (Till next time…)