New Year is called  áramót, or nýár, in Icelandic. Whereas the latter needs no specific translation the former is rather poetic and means "years meeting" or "the meeting of the years". New Year's Eve is gamlárskvöld, "old year's evening", and New Year's day nýársdagur, "day of the new year".
New Year's celebrations in Iceland are serious business. While Icelanders always like to party, this is the time of the year when they go all out and there won't be a dull moment – especially for the dogs. Every year when people begin to set off fireworks around Christmas time, accelerating towards the New Year, I feel sorry for any pet that's afraid of the sound of explosions.
The big celebration begins on the New Year's Eve. The time around the New Year is considered magical: animals may begin to talk like humans, seals may take human form and the dead may rise or be otherwise restless (not surprising, considering the amount of noise of a regular New Year's Eve in Iceland). The elves will be moving house tonight if they plan to move at all, so in case you see a long queue of people wearing shades of blue and gray it's not a good idea to get in their way. If you're a daredevil type you may go sit at a crossroads with an ax in hand and meet them – they will try their best at bribing you to move out of their way, so you stand to win quite a decent amount of goods – but if you speak to them, move away from your post or even so much as acknowledge them the game's over and you'll lose your sanity.
For lesser dangerous activities there are bonfires all around the country, several in the big cities. They will all be lit around 8 p.m. to allow for a big dinner before. There will be a huge crowd and fireworks can be expected: I once saw a young man throwing them into the very bonfire itself. Safety goggles may be a good idea.
After this there will be Áramótaskaup, a television show that every single Icelander seems to watch and even the explosions die out almost completely during this time. It's a comedy show about important bits of the old year, what happened in politics, sports, media etc. Here's the ending song for the year 2010 (you can turn the English captions on for easier viewing) by Páll Óskar. There are many famous political figures in the video, you can try to spot the president and his wife – oh, and the blue-clad lady chained on the wall is Iceland herself.
At midnight everyone will go outside with their bags of fireworks and the real partying begins. Those goggles are still a good idea because believe me, you'll see a LOT of irresponsible handling of fireworks. They'll be shot from any platform available, that may or may not stay upright during the launch, and the people shooting them have often been drinking for a good while. Regardless, it's a massive spectacle that helps fund the voluntary rescue units, Björgunarsveitinn, and I would not miss it for the world. You can join in viewing it here (and stay perfectly safe) if you like!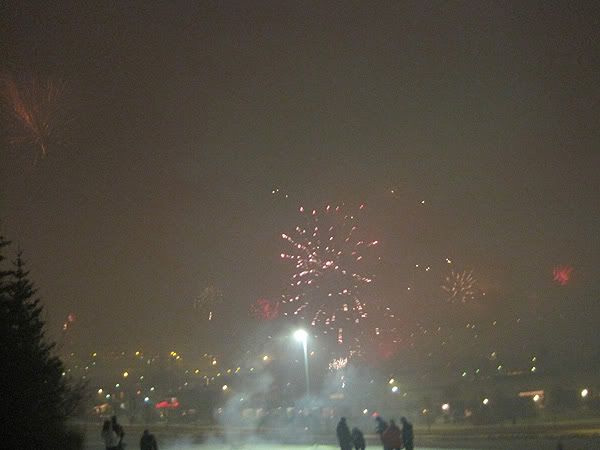 This is how Reykjavík will end up looking like at the end of the night. You won't even see the fireworks anymore for the smoke!
By the way, a New Year's Resolution is called áramótaheit (heit= a pledge, a vow, a promise) in Icelandic. Here are some useful ones:
1. Læra að tala íslensku. = Learn to speak Icelandic. Or any other language for that matter, you can simply switch the word íslensku with a language of your choice.
2. Komast í form. = Exercise/become fit.
3. Hætta að reykja. = Quit smoking.
4. Drekka minna. = Drink less. You can specify this one: Drekka minna bjór/gos/brennivín (beer/soda/strong liqour).
5. Eyða meira tíma með fjölskyldunni/vinunum. = Spend more time with family/friends.
See you all next year! Sjáumst á næsta ári!
Keep learning Icelandic with us!
Build vocabulary, practice pronunciation, and more with Transparent Language Online. Available anytime, anywhere, on any device.