Indian Prime Minister Mr. Narendra Modi (नरेन्द्र मोदी), the head of the government, is on the state visit to United States of America (संयुक्त राज्य अमेरिका – Sanyut Rajya Amerika). Their is so much buzz (चर्चा – Charcha) in the media about his visit (यात्रा – Yatra). Prime Minister (प्रधान मंत्री – Pradhan mantri) Modi enjoy a mass following in India (भारत – Bharat) and abroad because of his proven record for development (विकास – Vikas) of Gujarat state of which he served as the Chief Minister for the last fourteen years before taking the position of Prime Minister of India in May, 2014.  He has become the most favorite leader of many Indians. They elected him with absolute majority (बहुमत – Bahumat) him and his party to a historical (ऐतिहासिक – Etihasik) win in the election (चुनाव – Chunaav) held in May, 2014. People believe that after he became the Prime Minister of India, he can replicated the success (सफलता – Saphalta) of Gujarat development to entire India by improving nation's infrastructure and employment prospects.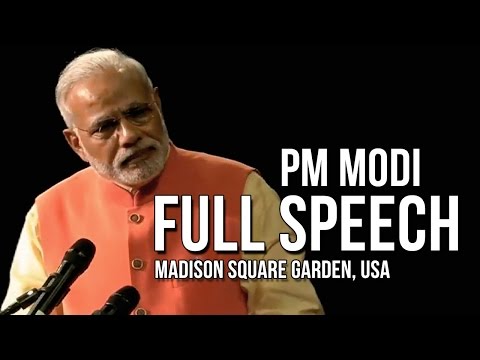 USA has large number of people of Indian origin (मूल – Mool). Many such non-resident Indians see him as an Indian leader who can catapult India into fast paced development in the coming time. They are following him in masses to all public places he is scheduled to visit in USA. His visit, which is about to end has as many as 26 official (आधिकारिक – Aadhikarik) and business meetings in 3 days alone! The scheduled of his 5 day's visit includes official meetings such giving speech (भाषण – Bhaasan) and meeting (बैठक – Bedak) world leaders at United Nations, business meetings with top echelons of industries in USA, public meetings such as in Madison Square Garden which drew around 19,000 peoples (लोगों – Logon (plural)) and addressing youths at Global Citizen Festival in New York, paying homage to 9/11 memorial, meeting US President Barack Obama and many other official from USA. It is more astonishing of Prime Minister Modi that he is attending all meetings with much vigor and enthusiasm for the last 4 days, while observing the fasts of Navratri and drinking only warm water.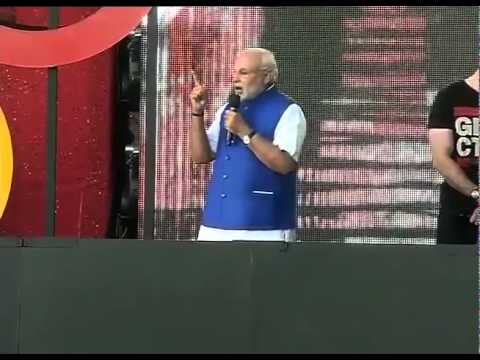 The visit is historically important (महत्वपूर्ण – Mahatvapurn) for two biggest democratic countries in the world, India and USA. For a long time, the relationship (संबंध – Sanbandh) between two countries have lot of up and downs. Both countries expect to improve (सुधार – Sudhaar) the relationship and business trade (व्यापार – Vyaapar) with this important visit.