Arabic calligraphy (الخط العربي) is a very important aspect of Arabic art and culture that has enjoyed an important status in Arabic culture for centuries. Calligraphy is defined as beautiful or decorative handwriting, which is a feature of the majority of writing systems around the world. In Arabic and Islamic culture, calligraphy has enjoyed a distinguished status, due to its use in the writing of the Qur'an and in Islamic architecture.
Arabic writing has been in use before the advent of Islam, but it is believed that it was rather primitive then, and that it started to gain its important status as a competent system of writing in the first century after the rise of Islam. Two important factors contributed to the development of calligraphy. First, it was used in the writing of the holy book of Muslims, the Qur'an. Second, Islam does not approve the depiction of living creatures in art, which encouraged Muslim artists to excel in the art of calligraphy. Furthermore, calligraphy was utilized in architecture, textiles, and other materials, rather than being restricted to writing on paper. Third, the spread of Islam in Asia and Africa resulted in the adaptation of the Arabic alphabet by various peoples and the evolution of many new calligraphic styles as a result.
The main styles of Arabic calligraphy are:
1- Naskh (النسخ)is one of the earliest scripts to evolve. Naskh style displays a very rhythmic line. It is the most widely used in print, and in the writing of the Qur'an.
2- Ruq'ah (الرقعة) evolved from Naskh and became simplified. Riq'a is rounded and densely structured. It is the most popular script for handwriting all over the Arab world.
3- Kufi (الكوفي) named after the city of 'Kufah' in Iraq is distinguished for its angularity and squareness. It is widely used in ornamental forms.
4- Thuluth (الثلث) script has enjoyed enormous popularity as an ornamental script. It is characterized by curved letters that are linked and sometimes intersecting.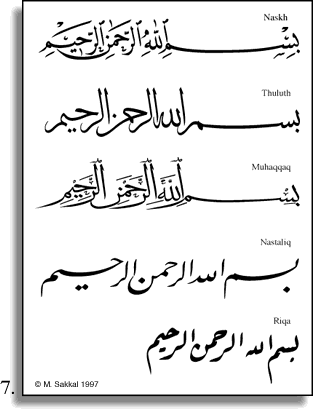 Arabic calligraphy has been extensively used in a number of purposes, not just for printing. It has been used in architecture for the decoration of buildings, mosques, etc. It has also been used in jewelry and textiles, in addition to numerous other uses. Arabic calligraphy has been used also in the writing of the Bible. It has developed recently and adapted itself to artistic trends and adopted new styles .
Keep learning Arabic with us!
Build vocabulary, practice pronunciation, and more with Transparent Language Online. Available anytime, anywhere, on any device.