Belly dancing (الرقص الشرقي) is an important aspect of Arab and Middle Eastern culture. It is controversial, and there are many views about it in the Arab world as well as in the West. Some regard it as an exploitation of the female body and therefore associate it with negative sexual stereotypes while others regard it as an art and as a form of visual expression. I believe that both views are valid because belly dancing is practiced in many contexts for different purposes. Belly dancing is mainly performed by female dancers (راقصات), and it has distinctive costumes (ملابس), music (موسيقى), and moves (حركات).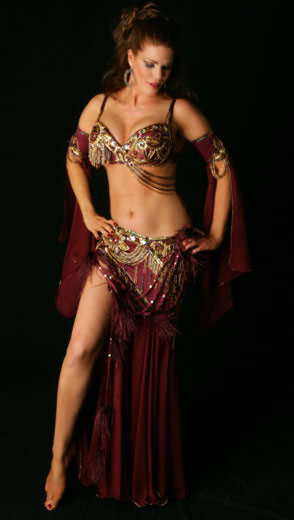 (Source: http://www.arabicdance.net/galleryphotos/reflectivefeather.jpg)
The status and perceptions of belly dancing in the whole world are changing rapidly, and it is gaining more appreciation and recognition as an art. It is even being formally taught at colleges throughout the world. Many dance courses are offered in each and every city and town in the western world. In the town where I live in the UK, there are at least four places that offer belly dance classes. Belly dancing has recently become associated with fitness, work-out and weight loss.
Keep learning Arabic with us!
Build vocabulary, practice pronunciation, and more with Transparent Language Online. Available anytime, anywhere, on any device.