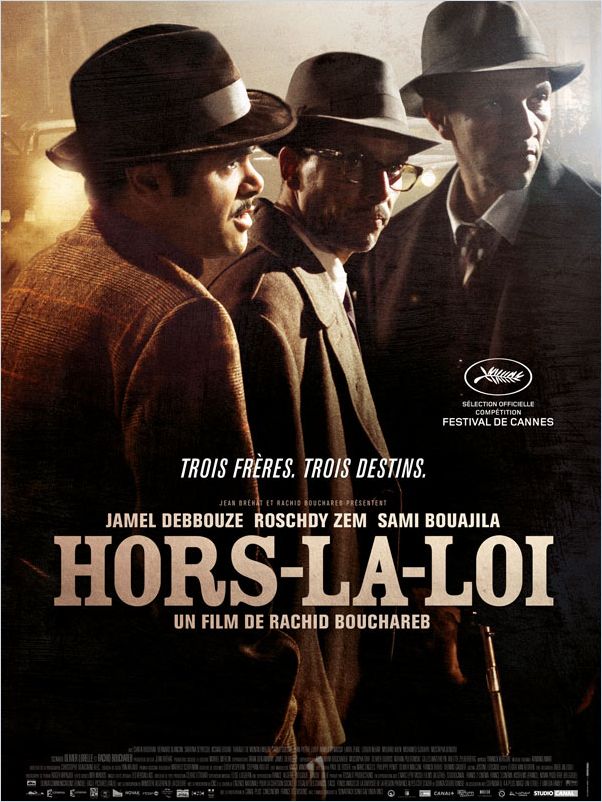 You've already seen him in "Le Fabuleux Destin d'Amélie Poulain." You may have also seen him in "Indigènes" ("Days of Glory" in English), by French Algerian movie director Rachid Bouchareb.
His name is Djamel Debbouze, and he's now back in the sequel to "Indigènes", directed by the same Bouchareb. The movie is called "Hors-la-Loi" in French, and "Outside the Law" in English.
In the the first movie, "Indigènes", we follow the story of Algerian and Moroccan soldiers who, despite having their home countries living under extremely harsh French occupation, rush nevertheless to fight in World War II to help deliver France from the clutches of Nazi Germany.
When it was released, back in 2006, "Indigènes" did not trigger any major polémique (controversy.) The 2010 sequel "Hors-la-loi", however, managed to provoke the unlikely scene of heated demonstrations held at the very doorsteps of the Festival de Cannes!
Of course, the Festival organizers, whose budget -we are told- is still reeling from la crise financière (the financial crisis), did not have much to complain about the unexpected glare of publicité.
The 2010 French-Algerian film "Hors-la-loi" ("Outside of the Law")
Make no mistake about it, although its events are set in the final days of the Second World War and its immediate aftermath, this movie is no Quentin Tarantino à-la-"Inglorious Basterds."
The plot of "Hors-la-loi" takes place in 1945, immediately when la Deuxième Guerre Mondiale (WWII) came to a long-overdue end.
Hundred thousands of Algerians, whose country had been illegally occupied by France since 1830, went in the streets to celebrate the end of the war.
Among the demonstrators were Algerian soldiers enlisted in the French army, whose participation in the war proved instrumental in the liberation of France from the Nazis.
The demonstrations were mainly held in the cities of Setif, Constantine, and Skikda. People celebrated V-Day ("Victory Day", that is), waved Algerian flags, and chanted demands ranging from le droit de l'autodétermination (self-determination right) to the full and immediate independence of Algeria.
The answer of *not all*, but many armed "pieds noirs" (literally called the "Black Feet"), who were often backed by European French soldiers, was a swift and ruthless bloody repression.
In the matter of only a few days after May 8th, 1945, thousands of Algerians were to be massacred in a horrible bloodbath.
Their crime?
Daring to wave a different flag than the tricolore.
It is important to understand that many French people, intellectuals and ordinary citizens, including a great number of pieds noirs themselves, were truly outraged by these horrific large-scale massacres committed against the native population.
The main problem was that France's public opinion remained oblivious to what was happening in its so-called "outre-mer" (overseas) colony.
French Public Television "France 2" documentary about the May 8th 1945 massacres in Algeria, which marked the true beginning of la Guerre d'Algérie (The Algerian War), sparked in November 1st, 1954.
Prophetically, some of the murdering leaders of les pieds noirs are known to have said: "On est tranquiles pour dix ans" ("We got nothing to be worried about for the next ten years")
Now, who are the "pieds noirs", you may ask?
The "pieds noirs" is the name of French and European settlers who lived in Algeria as "supercitizens" of some sorts, enjoying countless "legal" privileges, mainly tailored to their own special interests, while the original owners of the land, the so-called "indigènes", were denied the most basic human rights, be it the right to vote, or simply elementary education.
Again, it would be wrong to consider that all the "pieds noirs" were coldblooded murderes. But a great deal of them were in fact growing desperate, and were prêts à tout (ready to do anything) to keep alive "l'Algérie française" ("French Algeria"), and with it their illicitly-acquired possessions and privileged life-style, even at the expense of the interests and the very lives of the so-called "indigènes."
Some may observe that this situation sounds a lot like the "Apartheid" system set in l'Afrique du Sud (South Africa.) 
Well, like a famous American baseball player once said: "It's déjà vu all over again"!
Indeed, it was an apartheid—an apartheid in North Africa, rather than South Africa.
La Guerre d'Algérie (The Algerian War), which is an important and painful chapter of l'histoire de France (French History), is in fact nothing more than un épisode of an age-old struggle in the history of humanity. A struggle waged by oppressed natives against foreign occupiers, wherever they happened to live sur la planète (on the planet): From the earliest days of l'Empire Perse (the Persian Empire), l'Empire Romain (the Roman Empire), to les Croisades (the Crusades), all the way up to the emergence of  l'Empire Britanique, "sur lequel le soleil ne se couche jamais" ("upon which the sun never sets.")
It's virtually the same leitmotiv, or the same historical pattern, if you will.

"Hors-la-loi" director Rachid Bouchareb: "I only want to open a debate"
Pour revenir au film qui nous intéresse (to get back to the movie of interest to us), here is what a featured IMDB.com reviewer had to say, after watching the movie:
"I was afraid of a good Arabs vs bad French people scheme. And I was actually pleased to see that it was not the case. Every one is grey, no white people, not dark either. Every one fights for his own convictions."
C'est vrai (It's true.) No single people or nation on Earth has the monopoly of le bien (the good) or le mal (evil.) All of us should enjoy the right to "fight for our own convictions", as the IMDB reviewer puts it.
But then again, what kind of "convictions" are these, exactly?
If these "convictions" are meant to indefinitely maintain the oppression of native people under a harsh colonialist rule, and if these very native people decide one day that, as the common French expression goes, trop c'est trop (enough is enough), then no matter what "legal system" is conveniently concocted to perpetuate the reigning colonial status quo, at the end of the day, the natives are the last ones to be viewed as "outside of law."
En d'autres termes (in other words): Whoever is a colonialist is de facto the "hors-la-loi"!
Keep learning French with us!
Build vocabulary, practice pronunciation, and more with Transparent Language Online. Available anytime, anywhere, on any device.