Happy Halloween to everyone! It is October 31st today! For some of you, this is the day you have been waiting for all year, to wear your favorite costume. On this Halloween day, I would like to share with you one of the most popular Halloween parade in Japan called, Kawasaki Halloween Parade. This year, the parade was on Sunday October 26th.
This parade is an annual event, in Kawasaki Japan. You pay the entry ticket fee of 1000 yen, approximately $10 each person. A grand prize winner received tickets to Italy plus $1000 cash prize this year.  You have to be at least 6 years old to enter the parade. (elementary 1st grade and older)
Take a look at the video from the parade below. There are many unique costumes you can see in the video.
2014 Kawasaki Halloween Parade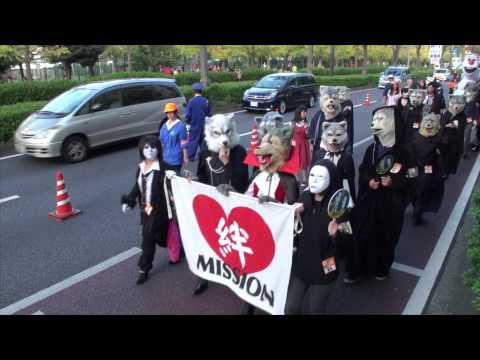 Here is the person who received the first prize this year.
The comment on the web site mentions this person spent approximately $1500 for this costume. This was his/her 7th year trying to win the grand prize.
In Japan, tick or treating is not common for children to do.  Halloween is something new for Japanese culture. People in Japan adapted the Halloween culture from a country like U.S. The idea of dressing up in a costume has become very popular these days. Many Halloween events such as the parade like this one are organized throughout Japan to give people an opportunity to dress up in costumes.  Going to trick or treating to stranger's house is not become part of Japan's Halloween culture yet.
So, if you happen to be in Japan during Halloween, be careful not to knock on stranger's house saying, "trick or treat". You might just scare the people who live there. Especially among older generations, Halloween is something they did not grow up celebrating, something totally new.
Have a safe an Happy Halloween everyone!