Hi, there! It's Friday, and I thought I would share with you something fun today. I recently came across an article discussing about this trend in Japan. It was too cute not to share with you all.  He's been around for over a year now, so some of you might know him already.
Meet the Neko Zushi Nya-ta (ネコずしニャー太). ("Neko(ねこ、猫) means "Cat" in Japanese.) Neko Zushi means Sushi Cats! 
Apparently, he has become pretty popular not only in Japan but also worldwide. Nya-ta(ニャー太) is not the only one becoming popular, but also his friends are earning popularities as well. Each one of them has their own name, off course.
Here is the explanation about what this is all about… Read on..
~ From Nekozushi.com~
ネコずしとは寿司のシャリの上にネコがのっている非常に不思議な生物です。
昔から多数の目撃情報や研究資料が残されていますが、未だ多くの謎に包まれており、滅多に人前にはその姿を見せる事はありません。
多くの研究者がその生態の解明に人生を捧げてきました。
ネコずしは「すき間」を通じて、我々の住む次元とは違う別の次元へと移動している、という研究成果も報告されています。「すき間」の向こうにはネコずしの世界が広がり、
こちら側である人間界のネコたちの真実の姿がそこにあるという事が
近年の研究でわかってきました。
Neko-Sushi is an extremely unusual life-form consisting of a cat on top of a portion of sushi rice.Although several references have come down to us through history from various researchers and witnesses, their existence is still shrouded in mystery and actual sightings remain rare.
There are several academics who have devoted their lives to the study of  these creatures. According to a number of these, Neko-Sushi make use of gaps in space to come to us from an alternate dimension. Beyond these "gaps" lies the world of the Neko-Sushi in which, it is recently understood, lies the true identity of the cats that dwell with us here in the human dimension.
スシはシャリの上に魚という関係性のものです。
ネコは魚を食べる、という関係性がもう一つあります。
本来魚がいるはずのところにネコがいる。
何故でしょう。日本の禅僧達はこの世の矛盾や神秘に対して
問いを投げかける禅問答をしていました。
ネコは魚を食べずに自らが魚の代わりになる。これ如何に?
この大いなる禅問答こそがネコずしの持つ不思議な力なのです。
We know the rule of Sushi – fish on top of rice.On the other hand we know the rule cats eat fish.Cats sit on rice, where fish is supposed to be – why? Contradiction and mystery in this world is always center of the cryptic questions among Japanese zen monks. And this is another Zen question -why Cats sit on rice instead of fish, not eating them? – the great zen question, which proves the magical power of Sushi Cats.
Yes, they have thier own theme song as well. Check it out…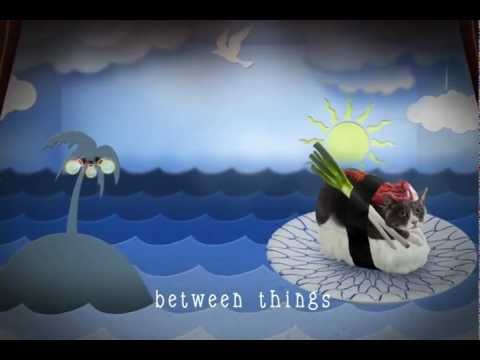 They now sell even books about them. On top of that, there are all kinds of goodies you can buy as well, such as calendars, key chains, and cell phone straps, etc..
Trend back in 1980′s ~
This reminds me of Name-Neko (なめ猫) that was so popular back in 1980′s. The brand name was Namennayo (なめんなよ)~ (Don't Pelorian!) In English, they were called "Perlorian."
Back then, one of the popular items to collect was this Cat License that says "VALID UNTIL YOU DIE" (しぬまでゆうこう、死ぬまで有効).
Has anyone seen any of these before? What do you think about these? Let me hear your opinion in the comment section. Have a nice weekend, everyone!