It's Thanksgiving Day! It's a time for sharing and spreading happiness. Wish all your loved ones a very Happy Thanksgiving in Polish!:
Niech tegoroczne Święto Dziękczynienia umocni w nas postawę wdzięczności za najmniejsze dobro, jakiego możemy doświadczać w codzienności naszych dni. 
May this year's Thanksgiving strengthen our attitude of gratitude for the slightest thing anyone can experience the everyday life of our days.
✺
Niech to piękne Święto stanie się dla nas wszystkich okazją do wdzięczności za dobro i dary, które są nam dane, ale i za te, które choć jeszcze nie dane, są dla nas przygotowane.
Let this beautiful feast become an opportunity for all of us to show gratitude for gifts and all the goods that are given to us, but also for everything, that is not given yet, but in making.
✺
Na Święto Dziękczynienia życzymy marzeń spełnienia.
Z wakacji czy z emigracji- radości, nie kłótliwości lecz zgodności.
W to Święto wdzięczności za hojność nieba i mnogość darów wszelakich, nie tylko chleba!
Thanksgiving wish fulfillment of dreams.
From vacation, from migration – joy, no arguments, but compliance.
In this feast of gratitude for the generosity of the sky and the multitude of gifts of all kinds, not just bread!
`
✺
Niech postawa wdzięcznego serca za każdą, tę drobna i tę wielką rzecz w naszym życiu, będzie obecna w każdym naszym dniu, niech będzie naszym zwyczajem, "chlebem powszednim", naszym "dzień dobry" i "dobranoc".
Let the attitude of a thankful heart for each, the small and the great thing in our lives, will be present in all our day, let it be a habit, "daily bread", our "good morning" and "good night".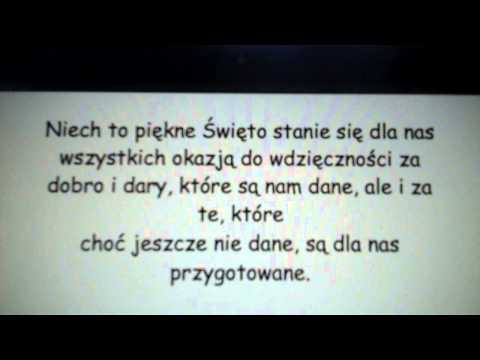 Do następnego razu… (Till next time…)