Can't believe summer is over already! Especially when you live in New Hampshire…and winters may last 7 months! Anyway…it was a great summer. Weather was amazing and I was able to spend some quality time with my family at the beach, paddle boarding on the lake, biking and camping!
I found this really cute Polish poem about end of the summer/back to school time!
Here it is with translation and pronunciation video:)
Powrót do szkoły
❃
Na dworze biegają dzieci
śmieją się bawią ochoczo
jeszcze słoneczko im świeci
i z wakacjami się droczą
❃
Pogoda wrześniem spojrzała
trochę się zimniej zrobiło
tak jakby już wyczuwała
że czas wakacji mija
❃
Już w głowie plany nowe
obietnice i przyrzeczenia
książki zeszyty gotowe
a lato oblicze swe zmienia
❃
Chłodne noce krótsze dnie
ranki szare i mgliste
jednak do szkoły się chce
myśli są jasne i czyste
❃
Nim dzwonek powita pierwszy
jeszcze podwórka wesołe
i czas wakacji cieszy
już jutro witamy szkołę
❃
A powrót będzie miły
czekają przyjaciele
więc uczniu nabieraj siły
nauki nigdy za wiele.
Autor: Cezaryna
Back to school
❃
Children play outside
They run and play gladly
Sun is still shining
And they they are having fun with holidays
❃
Weather looked at us with September
It got a little colder
Just like she would know
That holidays are almost over
❃
New plans in the head already
Promises and pledges
Books and notebooks are ready
And summer changes its aspect
❃
Chilly nights and shorter days
Gray and foggy mornings
But kids want to go back to school
With bright and clean thoughts
❃
Before the first school bell
Playgrounds are still happy
And still enjoying summer
Tomorrow we will start school
❃
And going back will be fun
All friends are already waiting
So gain some strength
Never too much of learning
Author: Cezaryna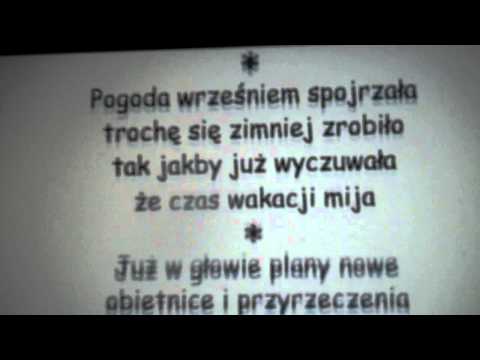 Do następnego razu… (Till next time…)