What are the most popular things you can find in a classroom (klasa)?
They may be slightly different nowadays than 30 years ago, but most of them stayed the same.
Most of the classrooms have map (mapa) on the wall, and blackboard (tablica). Students (in Europe a lot of people use word "pupils") – studenci, uczniowie - sit by the desks (ławka, biurko) and a lot of them use computers (komputery).
In their backpacks (plecaki, singular: plecak) they would usually have exercise books (zeszyty, singular: zeszyt), books (książki, singular: książka), drawing books (bloki rysunkowe, singular: blok rysunkowy).
During classes (lekcje, singular:lekcja) they will use pen (długopis), pencil (ołówek), pencil sharpener (temperówka), eraser (gumka), ruler (linijka), glue (klej), markers (flamastry), crayons (kredki), paints (farby), paintbrush (pędzel).
Teacher uses chalk (kreda) to write on the chalkboard and  wet sponge (gąbka) to erase it.
Did I miss something? Of course, I forgot about people cleaning classrooms. In Poland this person is called woźna (female) or woźny (male).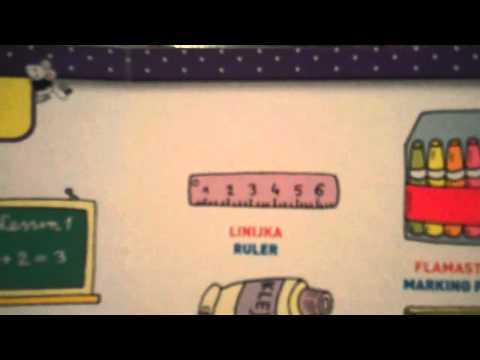 Do następnego razu… (Till next time…)